Your 14-Day Alabama Road Trip: Across The Heart of Dixie!
After watching Sweet Home Alabama, you might think you know all about what Alabama stands for. Small towns, Southern accents, fierce football rivalries, and hound dogs laying on the porch…? While Alabama certainly has some of those – there are so many fun things to do in Alabama. From the foothills of the Appalachian Mountains to sandy beaches along the Gulf of Mexico – this is your Ultimate 14 Day Alabama Road Trip Itinerary.
P.S. Don't worry if you need to cut your trip short. We've also included a 7 Day Itinerary for all of the can't miss Alabama road trip highlights!!
KNOW BEFORE YOU GO

The Best Time To Travel In Alabama: Spring and Fall (The summers are incredibly humid!!)

Alabama's Nicknames: The Yellow Hammer State, Heart of Dixie, the Cotton State,

Famous Foods: Barbecue, Alabama White BBQ Sauce and Huge Shrimp from the gulf

Landscape: Mountains in the North, plains & forests in the middle, beaches to the south

Fun Fact: Alabama is the only state to have an alcoholic beverage at its state drink – Conecuh Ridge Whiskey.

The Best Way To Get Around Alabama: By car
Tip For Traveling Through Alabama: You may come across regions where you have no cell service. It's important to know where you're going and figure out how to read maps before you go on any trip – but especially when there isn't much around. Get our guide here for 17 Skills To Learn Before Traveling Anywhere!
Day 1: North Alabama's Foothills
Start your journey through the varied landscapes of Alabama in the mountains. This region of the lower Appalachian Mountains is known for its pastures and grazing livestock along the mountainsides. Surprisingly, there are a ton of fun things to do in Northeast Alabama! More than just livestock, start your Alabama road trip with adventures fit for thrill-seekers.
Your first road trip stop will be in the far Northeast corner almost on the Tennessee Alabama border. Unearthed in 1950 – the Russell Cave National Monument is a well-preserved catalog with 10,000 years of Native American and prehistoric man's artifacts. Take a guided tour for a unique way to start your road trip.
In human history of America before European settlers invaded, the sequence of cultures start with Paleo, then Archaic, onto Woodland and ending in the Mississippian era. The highest concentration of artifacts comes from the Paleo and into Archaic eras (meaning there are artifacts from almost 9,000 years ago!!) This complete of an archeological record hasn't been found in many places across the US!!
For more Native American history and inspiration in your travels, get our guide to Arizona's Native American Ruins & Modern Day Culture!
Day 1 Hiking Trails
The next place to visit on your trail requires a little pre-planning for the true dare-devil… and just some snacks for the rest of us! You may have seen photos of it or heard of it referenced in movies, but The Neversink Pit is truly one of the wonders of Alabama!!
This 162 foot/16-story pit is home to a tumbling waterfall past ledges of glowing green ferns all the way to the bottom. You can access the cave by rappelling to the bottom or just viewing the cave from the top!! Get your free hiking or caving permits for the Neversink Pit here.
If you're interested in adding The Neversink Pit and vertical caving as an extra Alabama day trip, make sure to reserve your permits ahead of time!
After you get to see the incredible Neversink Pit, head to the stunning Walls of Jericho. This incredible hike is only for nature lovers willing to push themselves. This 6.4-mile round trip trail into the wilderness will take you past brightly colored berries and lush green scenery. Hikers are rewarded with a babbling waterfall flowing into a jade-green swimming hole!
Total driving time for the day: 1.5 hours of driving between Russel Cave National Monument and Scottsboor for the night. (We highly recommend grabbing a full tank of gas before starting your adventures in this area. You'll be driving through the beautiful but sparse countryside without many stops for gas.)
BEST HOTELS FOR DAY 1 OF YOUR ALABAMA ROAD TRIP: A great budget-friendly option after exploring outside all day is the Comfort Inn & Suites Near Lake Guntersville.
Alabama day trip #1: Unclaimed Baggage
In the delightfully pretty town of Scottsboro Alabama where the 'mountains meet the lakes', lays the giant Unclaimed Baggage store. This fun little shop is where all things that get left behind at airports in the region end up. People find all sorts of cool treasures here including designer handbags, shoes, electronics, and jewelry. (A friend of ours even found a Cartier love ring there? It's totally worth a 15-minute pit stop to browse!)
Many people add extra time for a day trip in Alabama to Scottsboro. Beyond Unclaimed Baggage, this little town is full of epically scenic views. To really get a taste of the beauty of the area, try walking the 1.4-mile Scottsboro Municipal Park Trail along the shores of Guntersville Lake!! This region is known for eagle watching amounst the towering foothils of the Appalachian mountains.
Continue on your Alabama road trip by stopping early or coffee at Pine Bros Coffee Co. in Scottsboro, crossing Lake Guntersville, and taking in the views at Weathington Park. While not the highest peak in Alabama, the 180-degree views of Lake Guntersville from the park's edge are pretty spectacular!
If you didn't know this tiny park was there – you would miss it and it would be such a shame. While we totally understand it may not be the most direct route to Mentone – but the views absolutely justify the detour!
You're reading about all the places to check off your Alabama bucket list. Looking to explore more of the South? Get our guide to all of our favorite honeymoon & romantic getaway destinations this fall.
Day 2: Mentone & Desoto Falls
After crossing Lake Guntersville, visit the artsy village of Mentone nestled deep in the mountains. Mentone (and the neighboring hamlet of Fort Payne) are home to local artisans, an art gallery, antique shops and so much more. Everywhere you look in Mentone Alabama are pottery shops, artist workshops, and trading posts making up what we've affectionately dubbed Alabama's hippie hideaway.
**If hiking isn't your thing, skip the Neversink Pit and The Walls of Jericho from Day 1 of our Alabama Road Trip Itinerary in favor of spending more time in Mentone. There are enough shops and galleries to fill up two days worth of exploring in this area!!
Must-visit shops include the 10 tiny shops in the charming Mentone Log Cabin Village, Artisans Inca Connection, and the Blissfully Serene Spa. **The log cabin village is especially good for folks looking for fun things to do in Alabama that don't require any strenuous hiking!
Before you leave town, include the stunning Wildflower Cafe & Country Store on your Alabama road trip itinerary. With their gluten-free, vegetarian, and vegan-friendly menu – grabbing a bit of the tomato pie has to be one of our favorite reasons to stop in Mentone!!
Desoto Falls: Include this gorgeous park on the peaks of Lookout Mountain in your road trip planning. Highly regarded as one of the best things to do in Alabama, there are actually two waterfalls and a secret hiking trail with a smimming hole at the end!
Little River canyon Preserve
About 30 minutes South of Mentone is the scenic Little River Canyon Nature Preserve. A place we could have easily spent a day could also be shortened to a 30-minute pit stop. To really see all of the best views, walk from the parking lot to the bridge overlooking the Little River. Then walk back through the parking lot to reach the trail for the base of the falls.
Once you get to the base of the falls – you'll realize there are many trails running through the park but only one takes you to the main views. This Alabama getaway is kind of a tucked-away secret but a perfect place to enjoy a road trip snack stop.
If you hike the trail or follow the river bed far enough when the water is low – you'll reach Martha's Falls. This hidden cove is home to a swimming hole perfect for a refreshing dip!
Love including waterfalls on your fun things to do in Alabama bucket list? Do another waterfall hike in the neighboring state of Georgia! Toccoa Falls is a towering waterfall with only a 0.1-mile walk from the trailhead.
Day 3-4: Huntsville Alabama
Start your day heading away from Little River Canyon south to Nocculala Falls for a 45-minute detour from your journey to Huntsville. from Litle River Canyon to This gorgeous 90-foot waterfall is an easy walk from the parking lot requiring no more than a 30-minute pitstop. (Great way to stretch your legs on your Alabama road trip!)
Once you're done gazing at the gorgeous waterfall head to Huntsville! You have about an hour and a half to decide what you want to spend your time doing, and there really is so much to do.
Cathedral Caverns State Park – On your way into town from Mentone and Noccoulala Falls, no Alabama road trip ould be complete without visiting these incredible caves known for their record breaking giant stalagmites!
More Information Here
First things first head to Rocket City's claim to fame: the US Space & Rocket Center! One of the only places in the country you can get up close and personal with a rocket that's actually been to space!! See National Geographical IMAX movies, interactive exhibits and so much more!!
If you're there to drop off your kiddos at NASA's space camp, make sure you take some time to explore the city!!
Outdoorsy Huntsville
In the afternoons, try out a little hiking and experience what the mountains of northern Alabama really have to offer in terms of views!! Start out by taking a hike at the Alum Hollow Trail on the south side of Huntsville to see a spectacular waterfall. Then head up to Monte Santo State Park for a little hiking, but also to take in a panoramic sunset over the entire city of Huntsville.
If hiking isn't your thing, you can still get your fill of nature on your Alabama road trip. Visit the Huntsville Botanical Gardens for a walk through the stunning hundred-acre park! We also suggest grabbing a bite to eat and having a picnic at the parks downtown in Huntsville, while you walk amongst the murals!!
Last but not least – if you have time in the evening, head to Burritt On The Mountain. Take in the sunset with cocktails set to the backdrop of an incredible 19th-century mansion!!!
Day 5: Muscle Shoals & Rattlesnake Saloon
Once you've had your fill of Rocket City, head NorthWest into the small towns of the Muscle Shoals region. Your total time driving from Huntsville to this region is about an hour and fifteen minutes, but if you need to stretch your legs – try a pit stop at Joe Wheeler State Park.
Joe Wheeler State Park is home to 2,550 acres of land surrounding Wheeler Lake. We love hiking the picturesque boardwalks through the changing leaves in the fall!!
Ready to get back on the road? Head to the adorable small towns of Florence, Muscle Shoals, and Tuscumbia. These tiny neighboring towns are packed with Southern charm and a history lovers' dream!! From being the birthplace of Helen Keller and home to a Frank Lloyd Wright house, it's also got a surprising musical background.
Rosenbaum House – Built by Frank Lloyd Wright in the 1930's, his architectural masterpiece is open throughout the week for tours!
Address: 601 Riverview Dr, Florence, AL 35630
Are you a fan of Cher, Etta James, or the Rolling Stones? Take a mini-tour of the Muscle Shoals Sound Studio! Started in 1969 by 'The Swampers', tickets are available every half hour to explore this historic music studio at home on the banks of the Tennessee River.
day 5 evening: The Rattlesnake Saloon
After you've had your fill with Muscle Shoals history, try taking in the natural side of these sweet Alabama towns. You couldn't have an Alabama road trip without running by the Rattlesnake Saloon. This incredible music venue down in a cave is only 30 minutes south of the main downtown area and well worth the drive!! (You'll need to go in the evening to really get a feel for the place!!)
Where To Stay In Muscle Shoals: You can either camp out at the Rattlesnake Saloon or take a short drive back towards Muscle shoals for the evening. Camping is a great way to make your trip budget-friendly – but if you haven't packed all your gear try The Gunrunner Boutique Hotel. The Gunrunner is a gorgeous modern stay that you can check yourself into!! (Adding the Gunrunner Boutique Hotel is a must on your Alabama road trip because it also made our list of The Top 14 Gorgeous Southern Hotels!)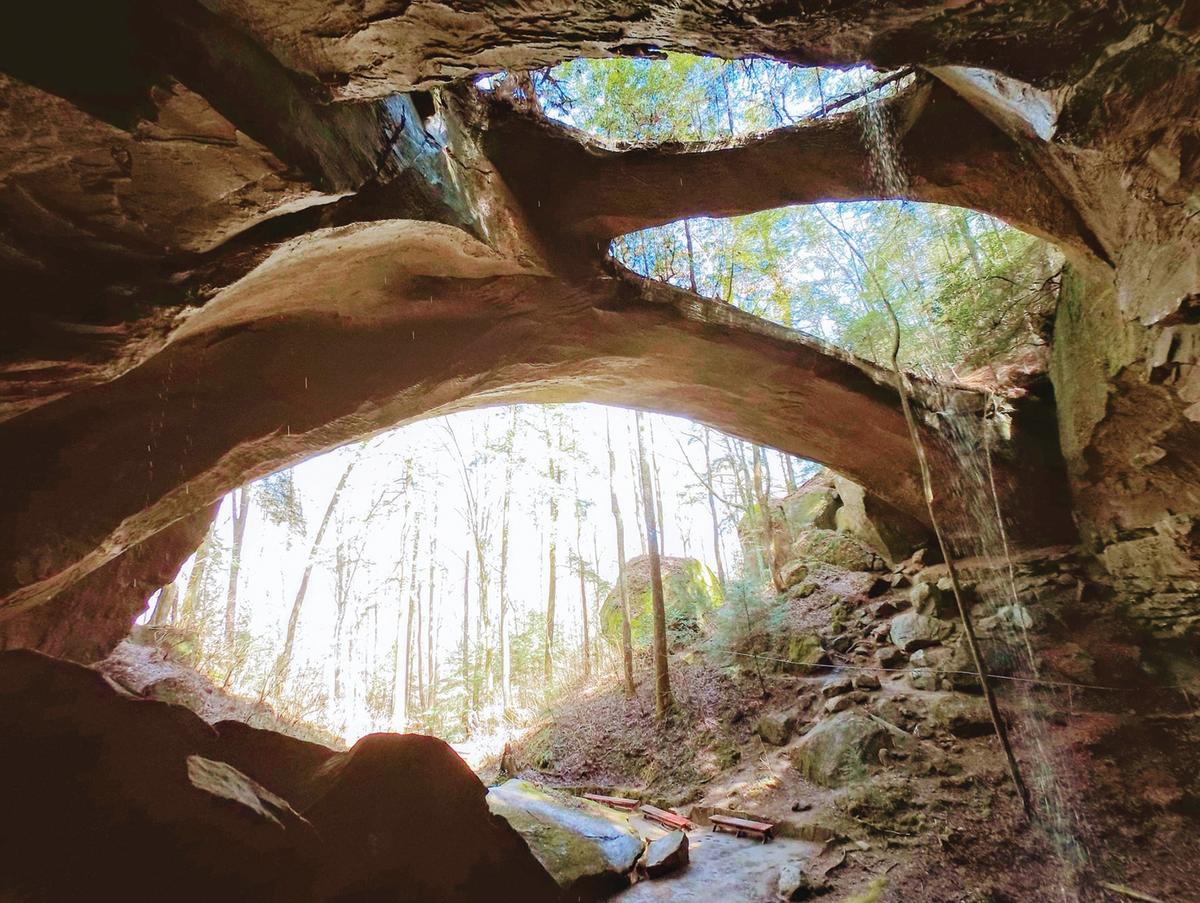 Day 6-7: Explore Waterfalls and Hike Dismals Canyon
Start your day heading South towards William B. Bankhead National Forest. Called the 'land of 1000 waterfalls', Bankhead is perfect for nature lovers! Still, in the foothills of the Appalachian mountains, hikers can expect challenging hikes mixed in with more moderate stretches through the wilderness.
FUN FACT: Interestingly enough, Kentucky our home state has long been known as the land of arches in the South Eastern USA. Some of our favorite Kentucky hikes center around them! Alabama surprised us with a gorgeous mix of waterfalls and towering limestone arches throughout Bankhead National Forest.
If you're looking to check a few more hikes off of your Alabama bucket list – try a few throughout this region! Caney Creek Falls and Sougahooagdee Falls are two particularly destination-worthy hikes we love. Neither is all that difficult, while still allowing you to see the best parts of the forest.
For the hiker unafraid of a challenge, try out Shangri-La Falls. Clearly listed as a moderate trail without defined trailhead markers – you'll need to do a little bushwhacking to reach this fairy-tale pool at the end of a 1.4 roundtrip trail.
Dismals Canyon: aLABAMA rOAD tRIP dAY 6 (Evening)
One of the more peculiar stops in Alabama is the reason you'll need more than a day in this region. As one of the most fun things to do in Alabama (especially if you're a photographer) make sure you plan ahead for your evening adventure!!
Want to knock all of these amazing hikes off your Alabama Bucket list? Make sure to review our hiking daypack guide so that you're prepared to go all day.
Dismals Canyon is a relatively easy hike on a private nature preserve near Bankhead National Forest. Designated as a National Natural Landmark, few know about this incredible place. Few places in the world produce these bioluminescent creatures! The dismalites (glow worms) of Alabama's Dismals Canyon are closely related to the glowworms found in Australia and New Zealand!!
Your visit will be in two parts. First, hike the canyon itself on the 1.5-mile trail through the mossy green boulders and ferns. Then head back to the visitors center to check-in for your 45-minute tour to see the glow worms!
***If you plan on seeing the glow worms, you must bring a flashlight!!!
Get more information on booking tours here.
The Sipsey Wilderness
Deep within Bankhead National Forest, this nationally recognized 'Wild and Scenic' region covers over 24,000 acres along the Sipsey Fork of the Black Forest River. Visitors will feel like they've stepped back in time when exploring giant mossy boulders under waterfalls dripping down through rock overhangs!! For a few spectacular trails to add to your Alabama road trip – consider:
Kinlock Falls – (0.3 miles /Rated: Easy): For an easy hike with a big waterfall payout – try hiking Kinlock Falls! Like exploring the sleepy artists village of Mentone, the short nature of this hike is perfect for those looking to explore without heavy exeriton.
Borden Creek Falls – (4.9 miles / Rated: Moderate): Feeling like tacklling a more challenging multi hour hike? Try Borden Creek Falls Trail with the aforementioned mossy green boulders and beautifully melancholy mineral blue waters along Borden Creek.
Where To Stay Around Bankhead National Forest: We highly recommend camping in this area. Since the best time to take an Alabama road trip is the spring or fall, campers will wake up to eerily pretty, misty mornings as the forest comes alive in this lush region. Hotels: $$ Hampton Inn, Cullman $ – Imperial Inn, Haleyville
The Ava Maria Grotto
Upon leaving Bankhead National Forest, you'll head back towards I-65 before continuing South to Birmingham.
At least once in your lifetime on this stretch of I-65, you should stop at the Ava Maria Grotto. One of the most quirky and fun things to do in Alabama is visiting this 4-acre park full of miniature replicas of historical places around the globe.
Only about 15 minutes from the highway, the Ava Maria Grotto is open daily except on Christmas and New Years Day. Take a break from all the driving and stroll through the well-manicured grounds managed by the only Benedictine monastery of men in the state of Alabama.
German Benedictine monk Brother Joseph Zoetl made it his life's work to pay homage to famous Catholic places of worship like Lourdes Basilica Church. Even if you're not Catholic, the replicas are a site to see! There are other famous places included like the Leaning Tower of Pisa in Italy as well.
Address: 1600 St. Bernard Drive SE, Cullman, Alabama 25055
412 Public House – Stop here for lunch for an exceptional take on Southern fine dining. The menu's aren't extensive, but crafted with pride that comes through in their lovingly created cocktails and burgers, salads and more.
Address: 412 2nd Avenue SE, Cullman, AL 35055
Day 8: Explore Birmingham Alabama
The next stop on your bucket list Alabama road trip will be Birmingham. After stopping to visit the Ava Maria Grotto, drive South on I-65 for about 45 minutes. Birmingham is the biggest city in Alabama and one of the most colorful!
Traveling further away from the foothills of the Appalachian Mountains, adventurers will have plenty to see in this hilly-hipster city. The gorgeous hiking, foodie scene, and comprehensive Civil Rights historical records around Birmingham, like Huntsville, truly make it a great weekend getaway in Alabama as well. (If you need to split up your Alabama bucket road trip into smaller chunks, you could do a few different day trips in and around Birmingham.)
If you're coming into town, start your explorations in the Loft District with a delicious acai bowl or Nepalese homemade dumplings from Mo:Mo: at the Pizitz Food Hall. With a diverse range of restaurants and tons of open seating, this is a great stop for groups on an Alabama road trip!
After lunch, continue exploring the Loft District. This area has two great museums! The first is the United States premier Civil Rights museum: the Birmingham Civil Rights Institute. the next museum that will appeal to music lovers: The Alabama Jazz Hall of Fame. Love Ella Fitzgerald, Nina Simone, or Ray Charles? All of these musicians were in some way influenced by the jazz scene of Birmingham!
If you've had enough of museums, head to the trendy and walkable neighborhood of Five Points South. Long-loved local shops like What's On 2nd and the Vulcan Park Museum are interspersed throughout local eateries and artisan shops.
In the evening after dinner, head for a late-night snack at Big Spoon Creamery or head towards Birmingham's nightlife. The Dread River Distilling Company was named one of the top new craft distilleries on USA Today's '10 Best' Reader's Choice Awards and Carrigan's Beer Garden are both fun options for a night out on the town.
For Nature Lovers
For many of us these days, hiking has become somewhat of a refuge. So while we love exploring all the amazing parts of cities, we typically feel more at home with the green of the forests around us. If you're wanting to skip exploring the city of Birmingham, just know there are still plenty of gorgeous hikes in the area!
Turkey Creek Nature Preserve
Oak Mountain State Park – Known for it's epic hiking destination at Kings Chair. Hikers are rewarded with mile long views of the surrounding forest on the 4.2-mile loop.
Where to Stay In Birmingham: The Historic Tutwiler (Birmingham's Oldest Hotel!), The Redmont Hotel (Where Hank Williams spent his last night in Birmingham)
NASCAR's Talladega Superspeedway
After leaving Birmingham, your road trip will take you East towards the Talladega National Forest. before you get there though, you'll pass one of Alabama's claims to fame: The NASCAR Talladega Superspeedway. If you've never been to a race before, it's something that everyone should experience at least once in the deep South.
**We're normally not huge fans of events like this but we've included one on our Alabama bucket list because this track is the most famous NASCAR track in the country!!
Unlike any experience you've ever had before, the atmosphere around a race is electric in the most hoedown way possible. (We say hoedown with love – as Southerners ourselves, we have nothing but love for these Southern institutions!)
Now, watching cars race around a track may not sound like a good time, but the adrenaline pumping through your veins as the crowd cheers will tell you otherwise! The average car goes around 200mph, while narrowly avoiding becoming crumpled tin cans of metal and flames. Grab yourself an ice-cold brew while watching from the bleachers in that warm Alabama sun for an entertaining couple of hours.
Day 9: Talladega National Forest
Ready for some quiet after the crushing crowd at perhaps your first-ever NASCAR race? Head towards the next nature-loving introverts paradises in Alabama. Talladega National Forest is one of four national forests in Alabama, preserving over 390,000 acres in the mountainous Alabama countryside.
Our favorite section of this National forest that you should definitely add to your Alabama bucket list is the Cheaha State Park. Cheaha Mountain is the highest point in Alabama at 2,407 feet above the sea. From here take in Stunning 360 -degree views of the surrounding National Forest!
**Cheaha State Park also connects to parts of the famous Appalachian Trail through Pinhoti Trail / McDill Point. (McDill point is famous for it's sunsets!)
Some noteworthy trails include the Bald Rock Boardwalk, which allows you incredible views of Coldwater Mountain, Choccolocco Mountains, and Dugget Mountain!
Where To Stay Near Talledega National Forest: Unless you're camping in the area, head South towards Montgomery. There really isn't any need to stay in the area because you'll just be getting up and driving. The drive to Montgomery (with no pit stops) is just a little over two overs.
Not Interested In Hiking?
If you're not looking to do any hiking, skip Talledega National Forest. For fun things to do in Alabama on Day 9 of your Alabama road trip, scroll for an alternate day exploring the college town surrounding Auburn!
peach Park
On any road trip, you'd rather stop at the fun places to stretch your legs right?
After you leave Montgomery, you have a few hour's drive to Mobile. We highly recommend stopping off of I-65 at the Peach Pit for a sweet little dose of Southern hospitality! With sweet Peach pies, barbecue, and a cute park to let your furry friends and small humans run around at – it's great for people with families to stop!!
Add A Daytrip To Visit Auburn
Have time to add an extra day to your Alabama Road trip? Head South from the Talledega National Forest or from Birmingham to take a peek at the famous Auburn campus!
This historic campus opened in 1859 as a private all-male college. Since then it's grown to become one of the most sought-after colleges in the South with 25,000 students a year and plenty of War Eagle alumni. The campus itself is gorgeous to walk through. If you're an architecture or history buff you'll love scampering through the Jule Collins Smith Art Museum or watching a football game at the Jordan Hare Stadium.
Our favorite part about stopping in any small college town though is the nightlife. With local live bands and plenty of fun bars, it's fun to relive our college days! Spots like the Auburn Plaza Bar & Lounge, the Avondale Bar & Tap Room, or Fat Daddy's all bring back that college vibe where you can really let loose for an evening.
If you're in the mood for something a little more upscale: try John Emerald Distilling Company's gorgeous bar or the Wittle Rooftop Bar.
Where To Stay In Auburn: Just an FYI – Auburn football games are popular! If you visit this little college town during a home football game – you may have a hard time getting a hotel. Book well in advance! The Hotel at Auburn University, Towne Place Suites by Marriot, Hilton Garden Inn
Smith Mountain Fire Tower
If you're the adventurous type, grab a bottle of bourbon and head to the Smith Mountain Fire Tower for sunset!! Tucked away on Smith mountain – you'll find epic views overlooking Lake Martin. (The best part about this fire tower hike is that is open to the public and the tower itself has been completely reinforced within the last few years.)
At least one epic view over the mountains should be on your Alabama bucket list. Whether it's a fire tower or a hike – those moments always give you something to remember!

To Get There: Simply type 'Smith Mountain Fire Tower' into your GPS and it should pop up! From AL Highway 49, take a right onto W. Lafayette Street, left on Young's Ferry road, and then left on Smith Mtn. Drive. You'll see signs for 'Tower Road' and plenty of signs for parking.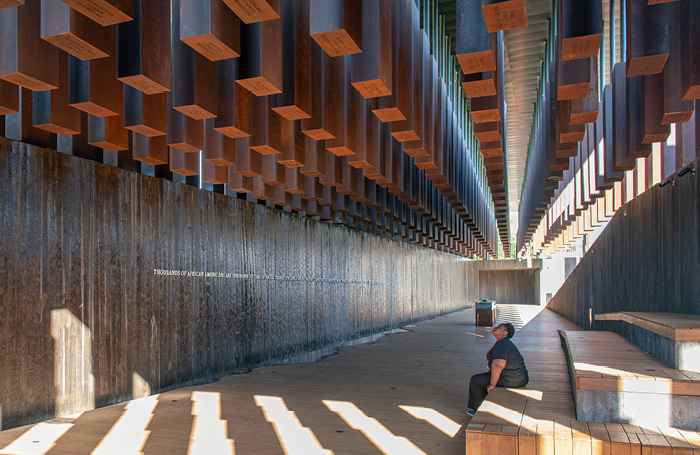 Day 10: Montgomery to Mobile
Driving through Montgomery is like taking a solemn and respectful step back in time. To truly get a sense of the importance Montgomery plays in US history, make sure to stop at a few places on your Alabama road trip. First, pay your respects at the National Memorial for Peace and Justice. Honoring the thousands of African Americans who were unjustly killed during the Civil Rights Era, this historic movement is further explained at The Legacy Museum.
After visiting these sobering memorials, avid readers and lovers of big band music have plenty to see. Reading buffs will love to cross off visiting the Scott and Zelda Fitzgerald Museum from their Alabama bucket list, and country music lovers will love visiting the Hank Williams Museum!
Before you leave Montgomery, make sure to stop and have a beer at the Railway Brewing Company and maybe visit the Museum of Alabama – home to a massive collection of Civil War-era artifacts.
For a lighter take on how African Americans prospered in times after the Civil war, take an Extra Day Trip in Alabama, veering off of I-65 south of Montgomery for an unusual stop in Gee's Bend. Famous for the historic community of quilters, creations from these artists have been showcased all throughout the country and some are considered crucial to the history of African-Americans in the South. Visit the Quilting Collective to really get a feel for the passion behind these artists' crafts. From Gee's Bend it's about 2.5 hours to Mobile.
What To Do In Mobile, ALabama
Venture into this gorgeously historic city alongside the serene Mobile Bay. Mobile was originally a French settlement over 300 years ago, and these influences can be seen throughout the city. Mimicking New Orleans in many of its architectural themes, it differs slightly in that it has much the same allure as another famously traveled Southern city: Savannah, Georgia.
With giant oaks lining drives to historic plantations, and Spanish moss draping romantically – there are many locations around Mobile worth visiting. Visit the Bellingrath Gardens and home known for their spectacular flower arrays blooming all year long, including the camellias that bloom in the winter!
For restaurant recommendations, prepare to dine on some of the best Southern takes on Cajun-Creole dishes. Two can't miss restaurants are The Trellis Room famous for its four-star dining, and Wintzels Oyster House which has been around since 1938!
Murder Creek Moonshine Distillery
Address: Mobile, Alabama
Bayou la Batre – The seafood capitol of Alabama and the isnpiration for Forrest Gump and Bubba's fishing business!!
Interested in seeing another Forrest Gump movie destination? Head to our guide to Monument Valley to see the spot where Forest Gump ran through the iconic red landmarks!
You're reading 14-Days In Alabama: Across the Heart of Dixie. After you've checked off your Alabama bucket list – maybe head North to Kentucky in the spring? Check out all of the amazing sights in the Bluegrass State during springtime.
Day 11: Dauphin Island
Exlporing this tiny island
colorful houses
Dauphin Island Audubon Bird Sanctuary\
The Lighthouse Restaurant
Estuarium – 7,000 gallon stingray touch pool
Living marsh boardwalk
Day 12-14: Gulf Shores & Orange Beach
Get up early and head towards the coast for a few days of rest and relaxation after all the driving! The best thing about Gulf Shores and Orange Beach is how uncrowded they are. Whatever you like to do on your beach vacations, the pearly white shoes along the Gulf are sure to provide it.
There are two very different types of beach vacations that our fellow Americans take here in the US. Some like a very touristy area, and some like a more relaxed secluded vibe. Gulf Shores is the latter of the two. The long stretches of beaches in Gulf Shores are some of our favorite in the USA because not the commercialized mumbo-jumbo of places like Destin and Panama City.
While you're in town, grab dinner Palms Bar & Grille for a waterfront view of the gulf and swing by The Hangout for drinks and music. Understood as a favorite live music hot spot, there is nothing better than crisp wine, seafood and live music by the sea at The Hangout after long days on the beach. P.S. Luke Bryan did a concert at The Hangout when Shelbs was in college and it was amazing!!
Reading is one of our favorite things to do on the beach. Needless to say, we always pack one so that when we're plopping our butts in the sand we can escape to the sound of the ocean and our imagination. Depending on where you're coming from, your road trip may get to include one of our bucket list bookstores throughout the USA!
Away From The Beach
In our household – we typically get along with just about everything. We hike when we want to, eat when we want to, and relax when we want to. The beach is the one glaring exception to those riles. Ev can't stand to just lay on the beach all day. He MUST be doing something for some of the time. If you're one of those lovely humans, here are some fun things to do in Gulf Shores besides relax on the beach:
Deep Sea Fishing: Popular fish like Pompano, Redfish and Black Drums are all just waiting to be your next dinner! Points to you if you clean it & fry it yourself!
Popular charters are Summer Hunter Charters, Island Marine Charters and Gulf Shores Fishing
Gulf State Park is an ideal spot to do a little birdwatching while paddle boarding or kayacking on the tranquil waters of Lake Shelby. Visitors will see huge turtles, bald eagle nesting areas, and alligators in the marshlands along the boardwalks!! (Guided kayak tours are available through Alabama Paddlesports.)
Get our Ultimate Country and Oldies Beach Playlist here!! A little something for everyone to enjoy – our entire family with very varied musical tastes found something to laugh and sing along with all day. No road trip is complete without a little music and in Alabama along the shores of the Gulf of Mexico – enjoy all 12 hours of listening without having to do a thing.

P.S. If you're near others – make sure to put in your headphones! Nothing worse than a bunch of loud music you don't like while you're trying to relax.
Looking for a little more beach vacation inspiration? Get our 1-week Itinerary for Aruba!!
14-Day Alabama Road Trip Itinerary
You might be wondering if there are enough fun things to do in Alabama for 14 days. Let us assure you that Alabama will surprise you with how many incredible sites there are to see!! An Alabama road trip is more than just a journey through cotton fields and small towns. You'll experience generous Southern hospitality, delicious Southern food, and walk through important Civil Rights historical museums and monuments, as well as be surprised by all of the hiking!!
Alabama's Foothills Region Day 1: Hiking & Exploring Russel Cave National Monument
The Artist's Village of Mentone & Desoto Falls on Day 2
Explore Rocket City – Huntsville on Day's 3-4
Day 5: Explore Muscle Shoals and Rattlesnake Saloon
Day 6-7: Hike Waterfalls in the Sipsey Wilderness and Dismals Canyon
Explore Birmingham on Day 8
Hike The Tallest Point in Alabama on Day 9
Day 10: Drive from Montgomery To Mobile
Day 11: Explore Dauphin Island
Relax by the coast for your last few days in Alabama.
7-Day Alabama Road Trip Itinerary
Don't have two weeks? We totally get it! You can break this mega 14-day Alabama road trip up into a bunch of smaller weekends or hit the highlights in 7 days.
Alabama is close to a few major cities – and it would be easy to add a few days in Alabama!
New Orleans to Gulf Shores (the very bottom of Alabama) is 3.5 hours.
From the north side, both Chattanooga and Nashville Tennessee are a two hour drive from Huntsville.
From Atlanta, you could be in central Alabama in 2-3 hours. (This would take you close to the Civil Rights loop of attractions throughout central Alabama.)
For a 7-Day Alabama road trip itinerary, we suggest starting in Northeast Alabama.
Rattlesnake Saloon (Day 1): Take the road less traveled to Northwest Alabama for music in a cave!
Explore Huntsville (Day 2): Dtart your day at the US Space and Rocket Center, explore the gorgeous Huntsville Botanical Gardens, and then take in a spectacular sunset at Burrit on the mountain!!
Head South to Mentone and Noccalula Falls State Park (Day 3): If you're into art, some fun things to do in Alabama include spending the day near Mentone. With art galleries and waterfalls aplenty,
Delicious Eats in Birmingham (Day 4): Tour this foodie Alabama city! Start with
Day 5: Drive though Montgomery and Mobile exploring Civil Rights museums and history.
Gulf Shores (Day 6-7): Explore the coast!
What To Pack For Your Alabama Road Trip
Bug Repellent
Sunscreen
Flashlight – For camping or to do the Dismal's Canyon tour!
Microfiber Towel: Want to enjoy those swimmin holes and waterfalls? The best way is by rememebring to bring your microfibe towel!! Not just on an Alabama road trip, but we take this on almost every trip we go on!!
Beachwear – Get our full guide to packing for the beach here.
Those are the specific items that you'll need for almost every road trip, but if you intend to go camping or hiking – make sure you explore our gear guides!
Further Reading
Think you've gotten your fill of fun things to do in Alabama? We've traveled extensively in the South and we want to share those experiences with you! For further reading on destinations throughout Southern USA, check out a few of our favorite posts below:
Share This post!
Alabama is undoubtedly a state for nature lovers, history lovers, and history lovers. If you're looking for a little bit of it all – head to Alabama for a lovely week away.
P.S. For any college students trying to figure out if Alabama is right for you – just remember there are more things to do in Alabama than meets the eye!! If you get a good scholarship etc. just remember you can always study abroad in college to get out and explore the world a little bit!!
Make sure to subscribe to our blog, snag all of your road trip basics (below), get your travel insurance, and have fun jamming to a new playlist!
Until next time friends,
SHOP