The Most Relaxing Fall USA Honeymoon Destinations
We got married in October so we're so excited to share this list! Every year we take a trip in the fall to celebrate our anniversary and it's the best decision! It's our chance to relax, reconnect, and pamper ourselves a little? When planning our trips, we take very seriously what kind of trip we're looking for and now sharing with you. The best fall USA honeymoon destinations have a few things: Pretty scenery, not crowded, and give you ample opportunity for relaxation. Think hot tubs, massages, mountains, or cozy fires to curl up by!
Everything about your honeymoon should be geared towards coming back refreshed and ready to take on the world together! We know from experience that trying to do too much on any trip can be exhausting – and your honeymoon is definitely not the time for that. Get to your destination, chose a few good bottles of wine to have in your room, and explore at a leisurely pace.
How To Chose a Honeymoon Destination
Regardless of whether you're going away for a whole month or for a long weekend- take into account what kind of vacation you want. Do you and your future spouse like long walks on the beach and wine? Are you the type that never leaves the cabin? The type that needs a couple of adventurous days? Depending on where you're going – there are plenty of amazing options for fall USA honeymoon destinations.
Of this list – we've done two destinations. The rest of these spectacular towns are on our personal bucket list! We believe in enjoying the destinations when we get somewhere and that means traveling slow. Slow travel is a mix of adventures and allowing yourself time o get to know the vibe of an area. That's the only real way to make memories!
Don't be discouraged if you only have a weekend! Click here for our guide on how to maximize your trip.
In a Rush? Save this post on Pinterest for later
Sedona, Arizona
Sedona is one of those places you don't imagine to be so pretty – but it really is stunning. When planning our trip out west to celebrate our wedding a few years ago – I only included it on a whim? But if anyone were to ask me now where the best fall USA honeymoon destinations were – I would absolutely include Sedona!
Not only are the leaves absolutely brilliant during their change, with all of the Aspens turning bright yellow – but the town itself is relaxing. I would highly recommend getting reservations before you try to get into any restaurant because Sedona has some interesting rules. The town does not allow any building to eclipse the natural beauty of its surroundings. This means the buildings can't be too tall or have too many unnatural colors. As a result, the town isn't very big and dinner plans are hard to come by!
Start Planning: See the amazing hike we did to a hidden cave!
P.S. If you're planning on making a side trip to Las Vegas, make sure you visit the Neon Museum!
Asheville, North Carolina
The photo above is from Dupont State Forest. If you're the type who needs to see the fall colors and you enjoy hiking – this fall USA honeymoon destination is for you. The mountains of North Carolina were absolutely stunning and relaxing when we visited for our second year anniversary.
From driving along the scenic blue ridge parkway to groves of rhododendrons – the scenery is truly like a mountainous rainforest. Perfect for glimpsing those breathtaking views that Asheville is famous for! The parts that really made our trip unforgettable, especially for Ev, were the waterfalls. We have waterfalls at home in Kentucky but these were roaring 150-foot cascading falls down the black rocks of the mountains. Truly we couldn't have asked for a better time!
Start Planning: Visit Asheville's Tourism Board
napa valley – California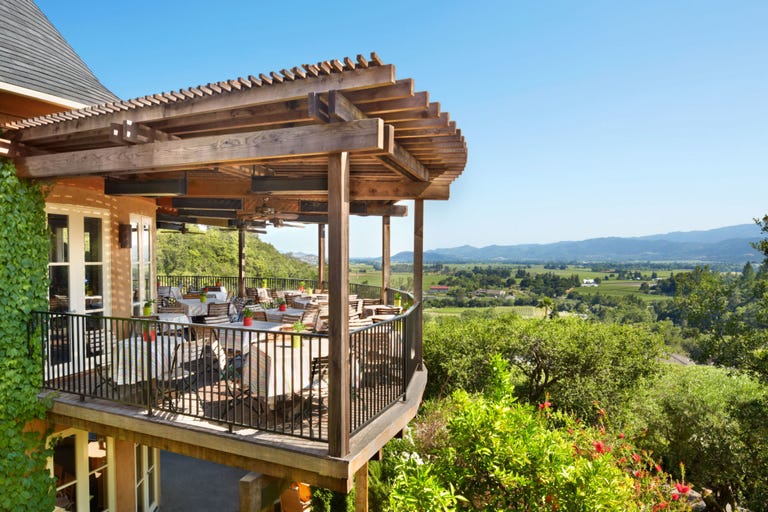 With more wineries than you can count – Napa Valley, California is a perfectly relaxing fall USA honeymoon destination. Honeymoons should be about being able to enjoy some of the finer things in life and getting to spend some relaxing together? With over five hundred wineries in the area, you'll definitely be able to get away from the crowd walking among the vineyards.
There are six major towns in the area: Calistoga, Town of Napa, Rutherford, St.Helena, Oakville, and Yountville. The most well-known is the Town of Napa but St.Helena is the second most popular. Your tastings can range from $30 to $150 at some of the more posh vineyards and I highly recommend mixing in a few different types of tours. When we were in Italy – we did a tour at one of the major wineries in Tuscany. As much as we loved seeing the history behind the large estate, it didn't have an intimate feel? The best winery experience by far was the smaller vineyard we stumbled upon, and actually owned by Mona Lisa's Family!!
Start Planning: Visit Napa Valley's Tourism Site.
Monterey County, California
Monterey County is another premier wine region in California – but with a totally different vibe. Napa Valley is swanky wineries and five-star dining. While you'll find some of that in Monterey as well – the epic scenery is what people really come for. Think locations like Big Sur? That pristine slice of the beach is in Monterey, and with temperatures in the 60s and 70s – you'll have plenty of gorgeous sunshine to go exploring.
Not only is Monterey full of beautiful scenery, but it's also home to the picturesque artists' village of Carmel. Carmel is one of those places where when you do your West Coast road trip up the Pacific Coast Highway- you absolutely have to get out and just look. The food, the wine, and the vibe are all just relaxed and perfect for a newly-wed couple to escape to.
Start Planning: Find your perfect little Carmel honeymoon cottage.
Nantucket, Massachusetts
Ahhhh Nantucket. The perfect little slice of New England heaven. Sailboats, crisp Atlantic winds whipping through your hair, and a lobster roll served fresh with an LIT.
If any of those things sound good to you – go ahead and add Nantucket to your list of potential fall USA honeymoon destinations. Nantucket is one of those picturesque little towns that make all of the other little towns seem a little less pretty. The tree-lined streets, the sweet cottages around every corner, and the fresh catch of the day just waiting to be slathered in a delectable assortment of sauces – just pull you into a perfectly relaxing vacation. (Not to mention that Boston is only a day trip away!)
Both of us have lived on the East Coast in little beach towns and the ocean really is just different there. It smells different, the shells are gorgeous, and the sand even feels different between your toes. Trust us when we say the East Coast has a lot to offer!
Start Planning: Find your perfect cottage or stay at a local inn (the New England way!).
Charleston, South Carolina
Where palm trees sway and vibrantly colored houses can almost make you think you're on a tropical island. Charleston is one of the only cities we would consider doing a walking tour in. Normally we can walk and see and learn ourselves – but there is so much to see and it's so beautiful – I would rather hear someone else talk while we take in the sights!
From pristine beaches to great shopping Charleston really has it all. One of the major things to do in Charleston as well is to visit art museums. For any art buffs looking to relax and unwind – this sunny southern slice of relaxation is perfect!
Start Planning: Visit the Charleston Tourism Board
Long Boat Key Florida
If you saw the picture above of Long Boat Key and the tension between your shoulders immediately eased.. this is the island for you. With 12 miles of white sandy beaches, it's the perfect 'plop down and do nothing' fall USA honeymoon destination.
You don't have to do anything here except get a tan, eat good seafood, and spend time with your new spouse. Sometimes that really is the best thing to do – and doing it at Long Boat Key is perfect because it's completely non-crowded. Besides being a slower pace and quieter, this honeymoon wouldn't require much thinking. It's a small island – there are only so many places to go!
Start Planning: Visit the Long Boat Key Tourism Board
Eureka Springs, Arkansas
Not only is Arkansas a hidden gem, but it's an untapped hidden gem. The town of Eureka Springs comes alive with Victorian architecture set against an impressive backdrop of the Ozark Mountains. We don't always recommend specific hotels or B&B's but true luxury in Eureka Springs can be found at the 1886 Crescent Hotel. It's a perfect destination for anyone looking to plan a US-based honeymoon this fall. The best thing about visiting the 1886 Crescent Hotel is that it's a spa, set to a calming backdrop of the mountains. If you really want to unwind, what better way than to get a massage or refresh your mani/Pedi in the quiet of the mountains!
If you feel like leaving the hotel to explore – make sure you don't miss seeing Thorncrown Chapel! People come from all over the US to see this architectural marvel. When you're done visiting – there are plenty of hiking trails and local restaurants in town to fulfill your trip.
Start Planning: Book your stay at 1886 Crescent Hotel now.
Related posts
How to Plan A Perfect Fall Honeymoon in the US
Fall USA honeymoon destinations are ideal when they give you a little something to do, but the rest of the time can be spent decompressing. For most of the Americans we know – you don't have much time off. Two weeks is the max we've come across in our friend groups! Some people chase the fall colors, and some people chase adventure – but we highly recommend just taking it easy. You'll have a lifetime to explore and see the world. Rushing from place to place to catch that bus!
For us though, slow traveling and living have become so important. Getting away from the rat race of posting to Instagram and life helps you deepen your connections with each other and create real memories.
Make sure to subscribe to our blog, snag all of your road trip basics (below), get your travel insurance, and have fun jamming to a new playlist!
Until next time friends,
SHOP