How to Spend 24 Hours In Las Vegas
If you only have 24 hours in Las Vegas, chances are you want to hit some of the highlights that you've seen on Instagram, Facebook, or Pinterest. We don't advocate for only traveling by what's popular on social media, but sometimes they are real gems! They become Insta-famous because you get the city's best views or see something with an exciting history.
Some of these spots are Insta-famous, and we know that they may not seem worth it in that sense – but that's kind of what Vegas is: A place of fantastic visuals. When we traveled to these places, the best part about them is that they led me to other cool Vegas locations. Making a note of Instagram locations is a significant way we started creating our bucket list. There were experiences we saw others having, and wanted to have them too. It's highly unlikely to add something to your bucket list if you don't know it exists!!!
It's impossible to see everything in Las Vegas in 24 hours, but you can plan out a pretty strategic and fun day if you're up for it! This post includes the locations we saw and the things we'll do next time!
Fun Las Vegas Locations
These are the locations that we had the most fun at and weren't just a stop and walk by or snap a picture. All of these destinations will take you about an hour to explore. If you're planning out 24 hours – try to only pick 2-3 and enjoy a little spontaneity the rest of the time!
The Neon Museum
What's the first thing you think of when you think Vegas? Most people think of it as an explosion of lights and colors! This was what I imagined, so visiting the Neon Museum was pretty amazing to see the history behind the city. When you're looking for things to do in Las Vegas, you want to choose things that will give you a flair for the cities culture as well as the glitz and the glam. Visiting The Neon Museum is a little of both!!
There aren't many open-air museums so I loved getting the chance to explore this one!
Pictured is the Riviera Stardust sign. You'll notice tiny me in the corner because it really is huge! Everything about this place reminded me of old Hollywood and I really love that vibe.
Tip for visiting: Try to go in the evening when the museum is lit up. We didn't get a chance but we had a great time during the day anyways!
If you're only spending 24 hours in Las Vegas, you can plan for this to take you about an hour.
Find everything you need to know about the Neon Museum here!
Freemont Street is another area where that old-school glam vibe is on full display. It feels right at home in the desert with slightly faded signs and the hipsters of Las Vegas flitting from store to store. You can find some great food here as well as some fun photo ops!
'Old Las Vegas' is actually the true downtown of Las Vegas, even though everyone thinks Las Vegas Boulevard is the main show. Think of Las Vegas Boulevard as the new showgirl in town and Old Las Vegas as the showgirl that's almost retired with the most stories to tell! Both have their merits and both are fun to see. (Plus, Old Las Vegas has the best food!)
This was definitely my favorite part of Old Las Vegas nightlife. Food trucks, people riding a zip line, and a light show across the ceiling! When I say this place makes an awesome photo op- I really mean it because it's definitely something you'll want to remember. There are performers walking around, (kind of like a circus), and it's overall just really fun!
Think of the Freemont Street Experience as the best open-air bar, people watching experience ever!
Click here for the list of free concerts and shows going nightly!
Caesars Palace in Vegas really is spectacular. Remember talking about the difference between Old Las Vegas and the glitzy Las Vegas Boulevard? Ceasar's Palace is one of the main shows on the strip. Walking past it, through the shops, and by the pool really are mind-boggling for a newbie like I was. It's HUGE!
That's kind of the fun part about Las Vegas though is the grandiose scale of everything. I also feel like it's how they draw you in! It's so well maintained, clean, and intricate? The fountain you see us sitting at below is a replica of the Trevi Fountain in Rome, and while not as big, it's really not less impressive. (We saw the Trevi Fountain in Rome and both are beautiful!)
The other thing to note about the big resorts and casinos is that you can walk around wherever. There really are no boundaries except to get into clubs and such because they want you to want to come to stay there. You can visit many different resorts and their attractions just by staying in the area and doing self-guided mini-tours.
Unless you're going to see Madame Tussauds House of Wax Museum, you probably don't need to ride in a Gondola but they are pretty to see! Walking over the bridge by The Venetian and seeing the intricate carvings along the face of the hotel were amazing. I didn't realize how close of a replica the bridge was to some of the real bridges in Venice until I started writing this article. They really are beautiful and definitely worth a strolling glance!
Easy Outfit For Walking Vegas
We just wanted to be comfortable and a little trendy. Las Vegas is like New York in that you're going to do A LOT of walking. Everywhere you go you'll walk some more. Heels, flip flops, and anything that chafes are not a good idea!
For the ladies:
Black joggers #daytimepajamas
Black off the shoulder top
Flannel shirt wrapped around my waist (served double duty when I got cold)
A great travel day bag
Comfy walking tennis shoes
The only jewelry I packed for that trip was a choker that I wear almost every day and a big pair of sunglasses. The sky in Nevada's desert really is like nothing you've seen if you're from the East Coast like Ev and I!

For more of my style recommendations and packing tips, see here!
---
Extra Locations We'll See Next Time
You can't do everything in a day and actually enjoy it, so to make the most of the time you have – be strategic! I highly suggest adding a few things to your itinerary in the morning and then save some for the next time.
I'm not usually the type to want to go back to a place but I feel like there is so much to do and see in Vegas. You really almost need two visits to really see the place and be able to make memories. That day Ev and I met up with some of his old friends so we didn't spend the entire day rushing around! I have to say I really enjoyed it that way and next time there are still more things for us to do.
Long layovers are a blessing sometimes! ; )
I would highly recommend getting lunch here the next time your wheels hit the ground! A friend of mine told me about when she did it and I can't wait to try again next time we're in town! (Las Vegas has super cheap flights out of Louisville SDF so we'll definitely be back.) There is always a bit of a wait but would be such an iconic experience!! Pictured above is the Spago Restaurant by Wolfgang Puck.
The Bellagio is known for doing everything over the top and their gardens are no different. Every season the 14,000 gardens are updated to reflect a theme and a separate theme for each Chinese New Year!
The Conservatory is free to visit! To show appreciation for the gardens though – you could always stay at the Bellagio or have a meal at one of their amazing seasonal restaurants like Michael Mina – a gourmet restaurant right off of the Gardens!
The Linq Hotel is probably one of the coolest hotels to stay at if you're looking for the 'fun' atmosphere to stay overnight. Not only do you get to use their gorgeous pool – but you're in close proximity to the LINQ High Roller and the Promenade.
The LINQ High Roller is a 550 feet tall observation wheel and gives you the best views in Vegas! I was highly recommended doing this at night to see the city lit up! Buy your tickets online because they're cheaper!
The LINQ Promenade is the area that leads up the LINQ High Roller, full of shops and places to eat. When you think of walking through Vegas – this is definitely one of those areas that I almost get the vibe of a theme park! You can find just about anything there to spend a whole afternoon and into the evening before you ride High Roller.
The LINQ Promenade is Caesars Entertainment's shopping, dining and entertainment district located at the center of the Las Vegas Strip which is home to 35+ restaurant and retail stores such as Brooklyn Bowl, Gordon Ramsay Fish and Chips, IN-N-Out Burger, Razer, Yard House, and so much more! The LINQ Promenade is located center strip across from Caesar's Palace. For thrill seekers, you can ride Fly LINQ Zipline down The Promenade, which is the strip's only zipline! Talk about being in the center of all the action!

www.vegas.com
You've seen it in almost every movie about Las Vegas! If you want to stop by the Welcome to Las Vegas sign and snap a photo, I highly recommend a quick selfie early! Many people who want to get photos here end up waiting in line – the major reason we didn't stop!! There are so many places in Vegas that are photo-worthy, I'd only add this one to the list if you have time.
Address: 5200 Las Vegas Blvd S, Las Vegas, NV 89104
Destination tip:
If you have a weekday layover – you're more likely to be able to actually visit this spot!
---
Best Hotels In Las Vegas
This is an area where I definitely don't abide by a budget traveler's mindset – although you can find some really great deals! I think staying in one of the casino's hotels is an essential part of a first-timers' Las Vegas experience. We're not gamblers, but we enjoy all of the glitz and the glam surrounding our stay at these major resorts and casinos.
We stayed at the Venetian which was amazing. Everything was sparkly and I absolutely loved our experience! Right down to the giant bathtub! I don't have a picture of our room because it's right before I started blogging and realizing I need to take pictures of everything. 😉 The next time we go back I think I'll either try staying at the Bellagio or a cool rooftop Airbnb!!
The four hotels I would try to stay for the best visual experiences are the Venetian, the Bellagio, the Aria, and the Wynn. I think all of them provide a fantastic stay based on reviews – but more than anything they're all a little different and beautiful!
To find the best Resorts – put in your dates and look along Las Vegas Boulevard in the map below!
Related Posts
How To Travel While Working Full Time
---
Where to Eat In Las Vegas
When you're looking for where to eat in Vegas- I always try to suggest using Yelp. Unless it's a really amazing experience like sitting next to the Bellagio Fountain for lunch, You're going to want a great atmosphere and good quality grub. The golden rule of finding good food is to go with your gut. Pun. Intended… But seriously! Remember that good quality food is ALWAYS Instagram-able, but not all Insta-worthy food is of good quality. So just because someone posted about it doesn't mean you'll enjoy it!
Typically restaurants, food trucks, and bakeries that care about the presentation are more likely to have good food. This is not always the case though so I look at restaurant reviews before we try anywhere. The only time I've added something to my bucket list is when I see it on three or four different Instagram's like Parson's Fish & Chicken in Chicago. Everyone talks about how amazing it is – so the next time I'm there I'll try it!
Some things are also just incredibly nostalgic even though they aren't wonderful. My favorite example of this throughout Las Vegas was In and Out. I did not love In and Out but I liked it enough to revel in it's history!!
A Short Drive Outside Las Vegas
While there is plenty to do in Las Vegas – there are also a couple of really great stops a short drive away from the city. We didn't get to see the Hoover Dam because the lines were crazy long, but we did get to see 7 Magic Mountains and I'm so glad we did! Prioritizing our adventures means we really will get to see everything eventually, and we'll do the Hoover Dam next time. That has to be your midset with any short trip through a big city! We only had 24 hours in Las Vegas ourselves so in one weekend it's almost impossible to take two short excursions away from the city and get feel for the city while really enjoying it!
I highly recommend going incredibly early in the day and then coming back to Vegas as the city wakes up. The lines to visit the dam are INSANE. Also plan on not going on a holiday weekend or weekend afternoon. Weekdays and early mornings are your best bet!!
For the cheapest tour tickets, click here for the Hoover Dam's Bureau of Reclamation.
To purchase tickets for a tour ahead of time click here.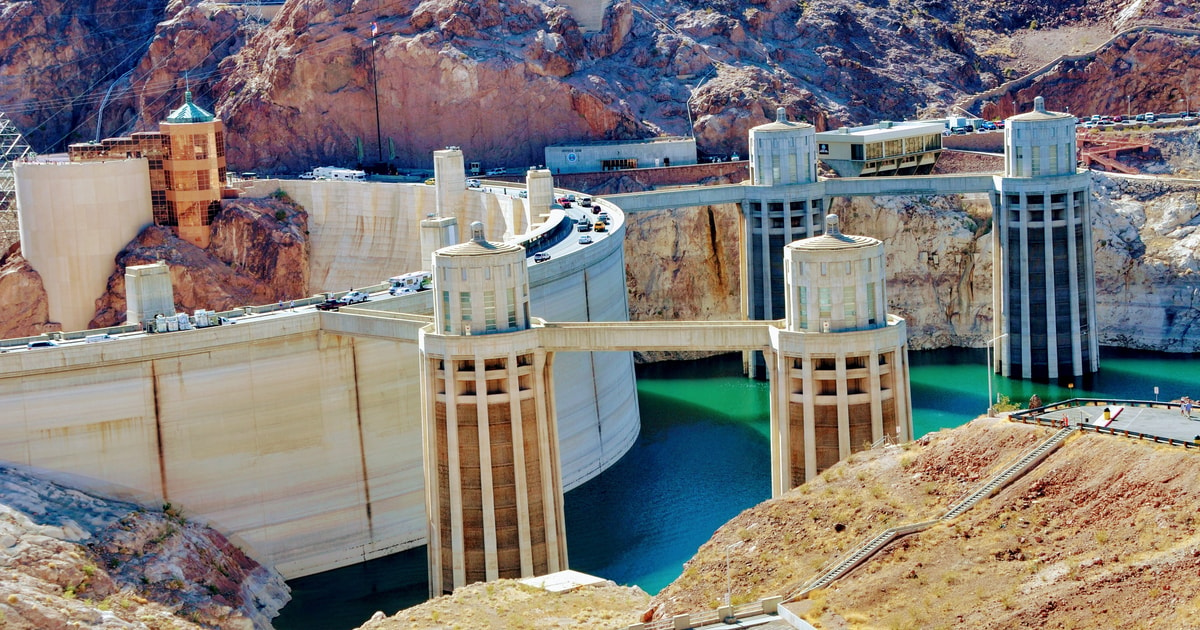 One of the most popular destinations for Las Vegas on Instagram – and let me tell ya: SO WORTH IT! This is one of those times when I truly was blown away by a popular destination. The contrast of the colors of the rocks with the sky? Something about the rustic boulders, and modern neon colors in the desert just felt so right!
I think it's also a great way to see the desert a little bit? It's easy to forget where you are in the middle of the lights and sensory explosion that is Vegas. The desert really is a crazy experience for someone like me from the East Coast though. The sky felt huge!!
Getting There: There is no official address for this exhibit but if you visit the exhibition's site, you can find directions and a google map location that's clickable! Also – if you have an Apple phone – just type in '7 Magic Mountains' and it'll take you right to it!
Destinations Map
There are so many things to do in Las Vegas, it's almost better to choose either strolling downtown or a strategic day. Both are totally enjoyable but you need to make sure you're happy with your choice!
This map should make it much easier for you to walk around. You can download it straight to your phone with the Google Maps App!
---
Don't Let Instagram Ruin Your Vacation
Somewhere like Las Vegas wasn't always meant to be an Instagrammers haven. When choosing things to do in Las Vegas, choose things that speak to you, and don't worry about doing what everyone else does! The city is full of amazing cultural experiences and you're going to have a great time even if you don't do the same things someone else did!
Some things are just not worthwhile, (i.e. standing in a long line in front of the Welcome to Las Vegas sign to grab a picture). But when it comes to cultural things, do it all! Someone created these free expressions of art, light, and color and they're positive parts of our trip that didn't feel like just an Instagram destination! While we love taking pictures and documenting our trip (especially for the blog) – that's not for everyone. Soooo- if you're thinking 'I don't need to take photos for Instagram..', skip those places that feel too touristy!
Instead… enjoy the craftsmanship, history, blood, sweat, and tears it took to make these works of art and parts of Las Vegas come together.
If you found This Post Helpful..
Pin for later!
Make sure to subscribe to our blog, snag all of your road trip basics (below), get your travel insurance, and have fun jamming to a new playlist!
Until next time friends,
SHOP