A Weekend Unplugged in Monongahela National Forest, West Virginia
Monongahela National Forest, West Virginia
Hiking Monongahela National Forest is basically the most back-woods hiking experience you never knew you needed. There are so many misconceptions about West Virginia as a whole- most notably with people not wearing shoes and holding banjos? The truth is that West Virginia is arguably one of the last 'frontiers' in the United States.
Located within the Monongahela National Forest, you have Snowshoe Ski Resort, Dolly Sods and a few cute mountain towns along the edge. Things to look forward to while you hike this forest include true quiet, sweeping mountain views, and slow, sleepy towns. If you're looking for an unpopular mountain getaway – the Monogahela National Forest of West Virginia could be the escape you're looking for.
Funny story: I was listening to a radio talk show and at one point one of the hosts starts talking about traveling through a European country. (Not sure which one but anywho.. ) He was at a bar and 'Take Me Home, Country Roads' by John Denver came on. One of the locals turned to him and said 'why aren't you singing – isn't this your national anthem? All of the other Americans sing it when they come in.' From now on when I hear this song I'll think of that story!
It really is true that so many people know the song even though it's not the national anthem! But really – if you want to truly feel a connection when you sing that ol song- start hiking in some of the prettiest mountains in our country.
Dolly Sods Region
Dolly Sods is a seventeen thousand-acre portion of this national forest – and incredibly beautiful! This area is known for bogs and deep red flowers dotting the landscape. At xxxxx ft elevation, there isn't much that grows but the deep red of the flowers at sunset is gorgeous!
Some of our in-laws live close to here just told us that you can even go cranberry picking here!
Blackwater Forest
Blackwater Falls is just one of the showstoppers of the region. With 24 miles of trails and scenic overlooks, be sure to add this little section of the forest to your visit!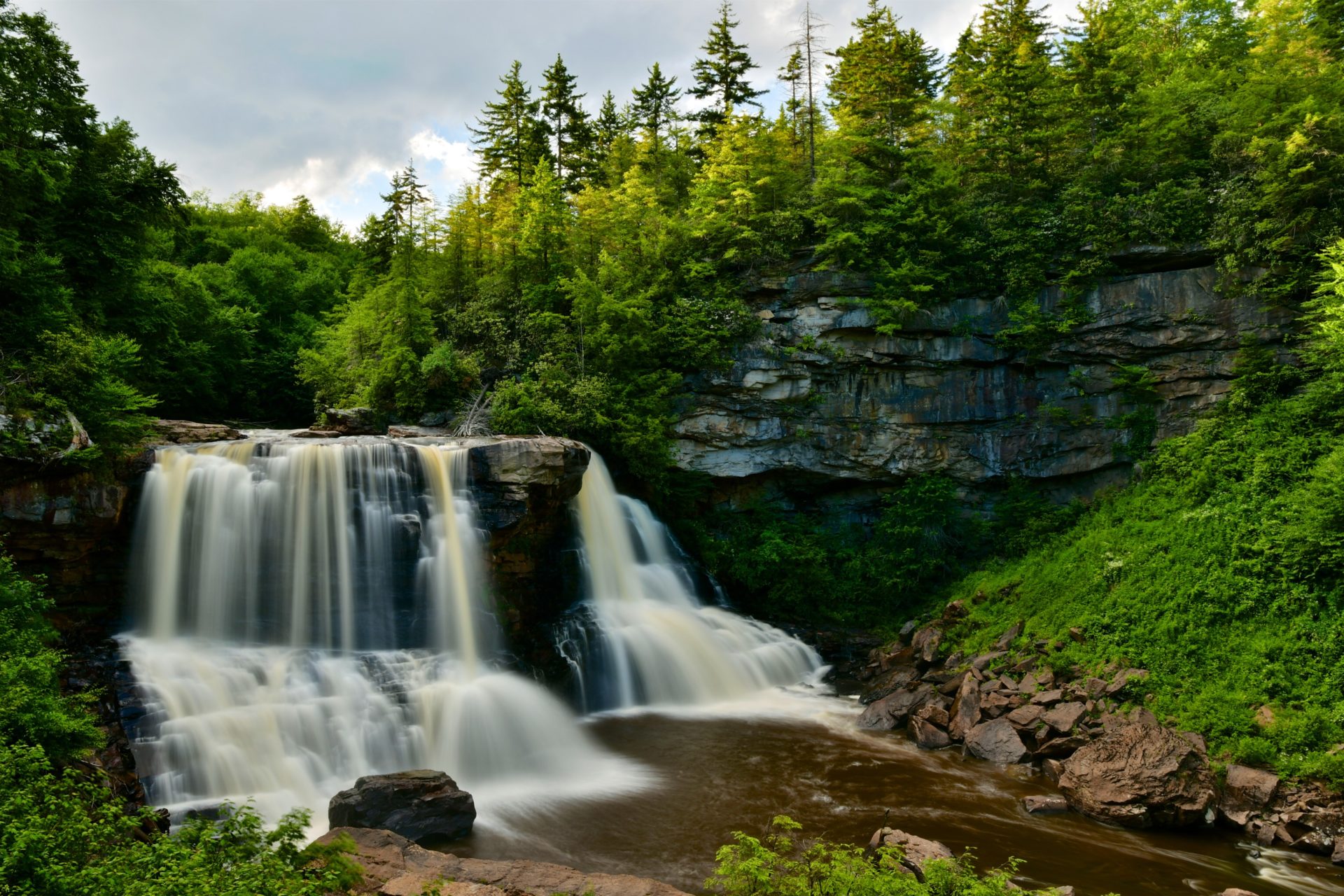 Visit the Blackwater Fall's Tourism Board
Seneca Rocks
Incredible view of the sunset! The craziest part about this is that rock ridges like these are climbed all over the world and we have some here in the US!
The Seneca Rocks Climbing School is located close by for anyone not familiar with climbing!
Click here for directions to the trailhead.
Monogahela National Forest Maps
All of the hiking regions above have maps available for download. Before embarking on any of these trails – we highly recommend downloading and familiarizing yourself with these maps! 1 million acres of forest is not a place to get lost!
Overlooks in Monongahela National Forest
The most scenic overlooks in Dolly Sods are going to require some serious hiking, not for the faint of heart. Most of the trails are a least two miles and some have over 700 feet of elevation changes. In the end though you'll be rewarded with some seriously amazing views!!
Blackbird Knob
We did just part of this trail but it's our dream to accomplish the full thing! 14.6 miles and encompassing parts of Dolly Sods on into the Forks of Red Creek – we've heard the views are spectacular from other regions only accessible by hiking.
Wildlife Trail No. 560
The overlook at the top of the post is at the end of this trail! As one of the most popular trails in the area – we highly recommend going all the way to the end! The views here are particularly stunning at sunset! There's a good chance you'll be hiking back in the dark if you stay for sunset so make sure you pack your headlamps! It's not a hard hike whatsoever – but a phone light won't cut it here.
Rohrbaugh Trail
This trail is 8.6 miles total but a pretty easy one. This trail has been highly reccomended for anyone who wants to hike with dogs- and we'll try that the next time we're in town!
If you're looking for ways to support the forest – please visit SaveBlackwater.org for more information!!
Breweries + Eateries + CofFee
While there aren't many restaurants in the area – there area a few we've loved!
Stumptown Ales – Davis is a tiny town on the outskirts of this national forest and has a cute little brewery!
Hellbenders Burritos – A great spot to enjoy a delicious burrito and they even have vegan options!
Wicked Wilderness Pub – They have live music here sometimes and it was so fun just to grab a few beers and mingle with the locals! Check their schedule here!
Tip Top Coffee House – This place is awesome! They even can some of their own coffee as cold brews for later!
Where to Stay in Monongahela National Forest
Snow Shoe is the main town right in the middle of the forest – but if you're looking to stay a little further out and more privately try an Airbnb. We have family that lives in the area so we've never stayed anywhere else – but if we needed to – an Airbnb tucked into the mountains would be our first pick! Keep in mind that it gets COLD in the mountains. You'll want to pick a cabin with the amenities you need, or stay at one of the resorts.
Also, be wary – Wifi in the mountains in spotty. Make sure if you need it that it's something you look for!
If you're thinking about staying in a hotel – the Snowshoe resort itself would be a great place to start! It's tucked deep into the mountains and perfect if you're looking for a snowy getaway in this region!
Visit Booking.Com to Find A Resort In The Area
What Gear To Pack For Hiking This Region
Besides just your typical hiking gear – one thing that we've repeatedly been cautioned to carry in West Virginia is bear spray! If there are signs everywhere telling you to watch for bears – take it seriously. You really just never know and it's better to be prepared!
GoPro – We have an entire post on what gear you need for GoPros!
Hiking Boots – Invest in a good pair! You'll be so glad you did. There is nothing worse than cutting short a magnificent day hiking because your feet are killing you!
Women's' Hiking Boots – These are pricey but a great investment.
Men's Hiking Boots – These are the men's hiking shoes that Ev wears. Day one out on the trails and no blisters! They do run a little small because they're Italian sizes.
Women's Hiking Clothes
Leggings
Adventure Pants
Men's Hiking Clothes
Hiking Pants – These men's pants are great and look good if you want to go to dinner after!
Day Pack / Camel Back & Water (Obviously) – Your Camelback can double as a day pack if you get a good one!
Snacks- We pack fruit, power bars, and our usually our favorite veggie sandwich!
Bear Spray – Remember that you're in the mountains! The threat of bears is very possible!
Natural Insect Repellant – You really need this if you're not going in the winter! We prefer the non-toxic kind since we usually hike with our dog and he tends to lick us on random occasions!
Headlamps – So that you can hike back after sunset at one of these beautiful overlooks!
West Virginia is more than just a tiny mountain state! It's absolutely gorgeous all around and even in the rain. As always.. don't try to include too much in one weekend. You're going to the mountains to renew your spirits. Not beat them down further by trying to accomplish everything in 48 hours. You'll come home refreshed and connected if you went with a partner, or without.
Save This Post For Later
---
Make sure to subscribe to our blog, snag all of your road trip basics (below), get your travel insurance, and have fun jamming to a new playlist!
Until next time friends,
SHOP
4232274