An Epic Road Trip To Bishop Castle, Colorado
Have you ever wanted to visit a castle in the mountains? Castles are fascinating, and you don't have to head to Europe to see one! Tucked deep in the San Isabel Mountains, Bishop Castle lays patiently waiting for explorers to traverse its many iron staircases and marvel at the great hall. (Don't confuse this castle with the equally stunning 'Bishop's Castle' down in Texas! Weird that there are two, though, right?)
We visited while on a road trip to Colorado, and the experience basically saved our trip. We had missed out on quite a few things because of the weather – and this pit stop made a huge difference!
(Have you ever been on a bad vacation? Because we totally have, and now we're doing ALL the planning to avoid another bad experience!)
The Best Time To Visit
Random – but people have weddings here! So when you're planning your visit – try to time it on a weekday so that you have the place to yourselves. The best time to visit Bishop Castle is not only on weekdays but during the summer, spring, and fall months. It get's pretty cold in the mountains of Colorado and you don't want to be shivering in the wind while trying to explore!
We'd also suggest not going on a rainy day – because climbing the iron staircases, or even the unprotected stone steps in the rain won't be great! You'll want full traction while climbing this massive adult jungle gym.
---
How To Get To Bishop Castle
Getting to Bishop Castle is pretty simple. There are a few separate routes but we highly recommend downloading your maps before you go. There are a few areas with incredibly spotty reception.. and there's nothing like a little getting lost in the mountains before nightfall kind of nervous!! (We've done that!) For those too stubborn to download a map before driving: here are some quick directions to remember!
The Scenic Route: 'from Colorado Springs, is to take Hwy. 115 south to Florence, turn left at the first traffic light onto Hwy. 67, turn right onto Hwy 96 in Wetmore and at the next junction you will see signs for Bishop Castle. Turn left there onto Hwy. 165 and it's 12 miles.' – Bishop Castle Visitors Center
The Direct Route: 'The easiest way to get to Bishop Castle is from I-25. Take exit #74 at Colorado City and head towards the mountains. (right off the exit ramp from the north and left off the exit ramp from the south) This puts you on Colorado state highway 165 and it's 24 miles without a turn to the Castle.' – Bishop Castle Visitor's Center
If you have time – take the scenic route. That's what we did because it's what road trips are for. You won't regret it! Especially if you find a pretty spot along the route to make a photoshoot pit stop. **Tip: Keep your camera charged and your memory card available!
---
What To Expect
The castle itself is not a finished livable castle – but it's still incredibly cool to visit. You'll walk up winding stairs, be able to see over the top of the mountains, and climb to some pretty epic little spots. It's basically an avid Instagrammer's paradise tucked away into the Colorado mountains!
A little backstory about Bishop Castle: The craziest and most fantastical part of its story is that the castle was built almost entirely by one man. (And a high school drop out at that?!) Jim Bishop bought the land the castle sit's on for $450 when he was 15 and never looked back. Over the years he learned working with iron, stone masonry, how to mill lumber.. and created something exquisite that's free for all to visit!! For more on the story of Bishop's Castle – Read Here.
Remember what we said about weddings being held here? Imagine getting married in such a stunning and eclectic place. Any decent photographer would be able to get shots that remind you of your perfect fairy tale day!
Even if you're not getting married – there are plenty of little things to see around every turn in the castle. One of our favorite things was the stained glass window. You can commission your own pieces of stained glass to keep supporting the castle build! (Jim Bishop still works on the castle during the weekends!)
Explore grand archways on the ground level, a dragon from the top, a view into the glass-roofed ballroom. Then just when you think you're done.. complete your adventure by climbing to the top of the turret into a modern-day iron lookout tower to see the mountains for miles!
---
What To Do In The Area
Exploring Bishop Castle will probably only take you and your group a few hours. From snapping a few pictures to scampering over every nook and cranny – you'll be able to see the whole thing and then continue on your road trip!!!
Cheyenne Mountain Zoo– Probably one of the coolest zoos in the country and a must-do on your road trip! Not only is the entire zoo a rustic-chic vibe – you can feed giraffes here! (This an especially great stop for anyone traveling with kiddos!)
Colorado Springs – Don't miss out on the Garden of the Gods! This hiking adventure is the biggest natural wonder in the area, and so pretty!
Great Sand Dunes National Park – If you're looking to continue your road trip West – stop at Great Sand Dunes National Park. It's about two hours away and really another perfect pit-stop!
For another off the beaten path Colorado adventure – see our guide for visiting Glenwood Hotsprings!
---
---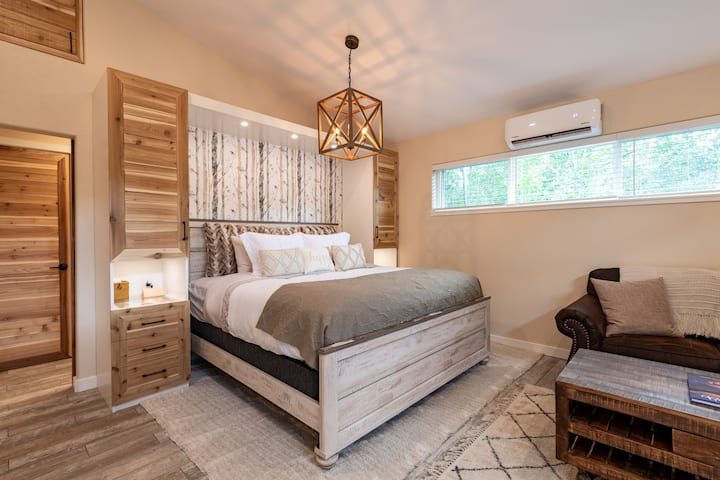 Where To Stay
Unfortunately, you can't stay in the castle and there aren't many hotels in the area so we'd usually chose an Airbnb in this situation! We highly recommend staying in Colorado Springs (which is about an hour and a half away). You can either drive straight from the castle and stay the night in the area – or get up early after staying in Colorado Springs and head to the castle. Either way – you're staying closer to food and other attractions for your road trip!
All of these Airbnb's are great for budget travelers and allow you to still feel like you're experiencing Colorado's fresh mountain air!
---
What To Pack For Exploring Bishop Castle
If you're excited to pack the car with a cooler full of yummy snacks (including our favorite Very Berry Sour Trolleys…), there are a few things you shouldn't forget! Comfortable shoes, water (because there's no running water available!), comfortable clothes. Anything to make exploring a little easier!
Further Reading
Looking for more helpful guides on what to do in Western USA? We have quite a few!
In Nevada, get our guide on how to spend 48 hours in The Neon Capital of the World (Las Vegas) and even visit the incredible outdoor (and Instagram-worthy) Neon Museum!
In Arizona, we have guides for how to respectfully explore Native American culture and hiking to the hidden cave on Soldier's Pass. You might also want our guide for everything you need to know about Monument Valley in Utah!
Found this post helpful? Save it for later!
Make sure to subscribe to our blog, snag all of your road trip basics (below), get your travel insurance, and have fun jamming to a new playlist!
Until next time friends,
SHOP