60+ White-Lightning Good Kentucky Quotes You Need for Instagram Captions
A few things that make Kentucky… well.. Kentucky? Think horses, bourbon, rolling green hills, sweet small towns, gorgeous sunsets, and lovingly tough people. With a long and beautiful history, there is so much to love about this state and we're so happy to call it home! Since we love talking about and sharing all of the fun things to do in Kentucky, we thought we'd also share a few fun and easy Instagram-caption-worthy Kentucky quotes!!
In this post, you'll find quotes about Kentucky from authors, actors, the first settlers in Kentucky and so many more. Before you leave, make sure you save this post to help you post all of your favorite Kentucky photos later!!
Kentucky Quotes by Authors & Actors
There are two categories of Kentucky quotes that authors have written over the years. Some are about the people – and some are about the land. As any true Kentuckian knows through – the people are the land.
Both of us have grown up loving the people here, but it's definitely different than the rest of the world. When you visit the small towns in rural Kentucky or the biggest cities, people here are undeniably Southern. The difference between us and the rest of the 'Southern' region is that we're a little bit of everything! See Ashely Judd's quote below about Kentucky girls to really know what we mean!
1. There are few truths in an uncertain world, but here's one; this ain't Kentucky! – Author: Verne Lundquist
2. If the world ends, I'll just head on down to Kentucky because they're always 20 years behind. – Author: Mark Twain
3. Sugarplum, anything north of Kentucky's all Canada to us – Author: Jamie Farrell
4. "To be born in Kentucky is a heritage' and 'to brag about it is a habit to appreciate it is a virtue." – Irvin Cobb
5. "Tough girls come from New York. Sweet girls, they're from Georgia. But us Kentucky girls, we have fire and ice in our blood. We can ride horses, be a debutante, throw left hooks, and drink with the boys, all the while making sweet tea, darlin'. And if we have an opinion, you know you're gonna hear it." – Ashley Judd
6. Some girls are made from sugar and spice but Kentucky girls are made of Bourbon and Ice. – anonymous
Quotes About Missing Kentucky
The quote by Happy Chandler about Kentuckians missing home couldn't be more accurate. As Kentuckians ourselves, it's really easy to start missing home. You long for the clean smell of the air and the way time moves just a little slower in the country. No matter what city you go to, just fifteen minutes outside of any city's downtown and you'll see cows, hay, fields of tobacco, soybeans, and corn.
Whether you grow up here as Ev did, or chose it to be your home in your adult years like Shelbs, these quotes about missing Kentucky really are true!!
I never met a Kentuckian who wasn't either thinking about going home or actually going home. – Happy Chandler
Living away from my native place I became more consciously Kentuckian than I was when I lived at home. This is what the experience of exile can do, change your mind, utterly transform one's perception of the world of home. – Bell Hooks, Belonging: A Culture of Place
You've gone far away to a place with no horses and very little grass, and you're studying how to write a story with a happy ending. If you can write that ending for yourself, maybe you can come back. – Author: Jennifer Echols
Really love this one from Jennifer Echols! The gist of the quote is simply that when you leave Kentucky before you can really come back you'll have garnered a new appreciation for the rolling green hills that shaped you.
4. Everybody always thinks you have to move out of the city and go where the music industry is, but it's possible in Louisville, and it's possible anywhere. You just have to believe. – Bryson Tiller
Kentucky Quotes About the Land
No Kentucky quotes list would be complete without these sayings from Jesse Stuart and others. As many Kentuckians know, there is no air sweeter, soil more fertile or grass so green in the entire country.
We Kentuckians get pretty obsessive about our grass, Mammoth Cave, and all of the beautiful things that make our home our home! If you're taking tours of Mammoth Cave, Red River Gorge, Danial Boone National Forest, etc – these Kentucky quotes are for you! Share along with your next Kentucky travel Instagram post to really showcase all of the rich histories you got to experience!
1. I take with me Kentucky, embedded in my brain and heart, in my flesh and bone and blood. Since I am Kentucky, and Kentucky is part of me.- Jesse Stuart
2. If these United States can be called a body, then Kentucky can be called its heart. – Jesse Stuart
3. Soon after, I returned home to my family, with a determination to bring them as soon as possible to live in Kentucky, which I esteemed a second paradise, at the risk of my life and fortune. – Daniel Boone
3. I love Kentucky people, but you have to get on the inside before they accept you. – Margo Martindale
5. All the Southerners think we're Yanks, and all the Yanks think we're Southerners, and all the Midwesterners think we're East. Everybody's always wrong about Louisville. That's kind of why I love it so much. – Jim James
Kentucky derby Instagram captions & Horse Racing Quotes
1. The best thing about the Kentucky Derby is that it is only two minutes long. It is the quickest event in sports, except for Sumo-wrestling & Mike Tyson fights. Maybe Drag-racing is quicker, but I have never been attracted to it. – Hunter S. Thompson
2. "Until you go to Kentucky and with your own eyes behold the Derby, you ain't never been nowhere and you ain't seen nothin'!" – Irvin S. Cobb
4. Gettin' down and Derby.
5. Off to the races.
6. Let the race begin!
7. Julep season!!
8. It's a beautiful day for a race.
9. Meet me at the races!
10. The only place where we party for 2 whole weeks for a 2-minute race.
11. May your hats be big, your juleps fine, your burgoo tasty, and the winner a long shot!
12. Keep your friends close and your juleps closer.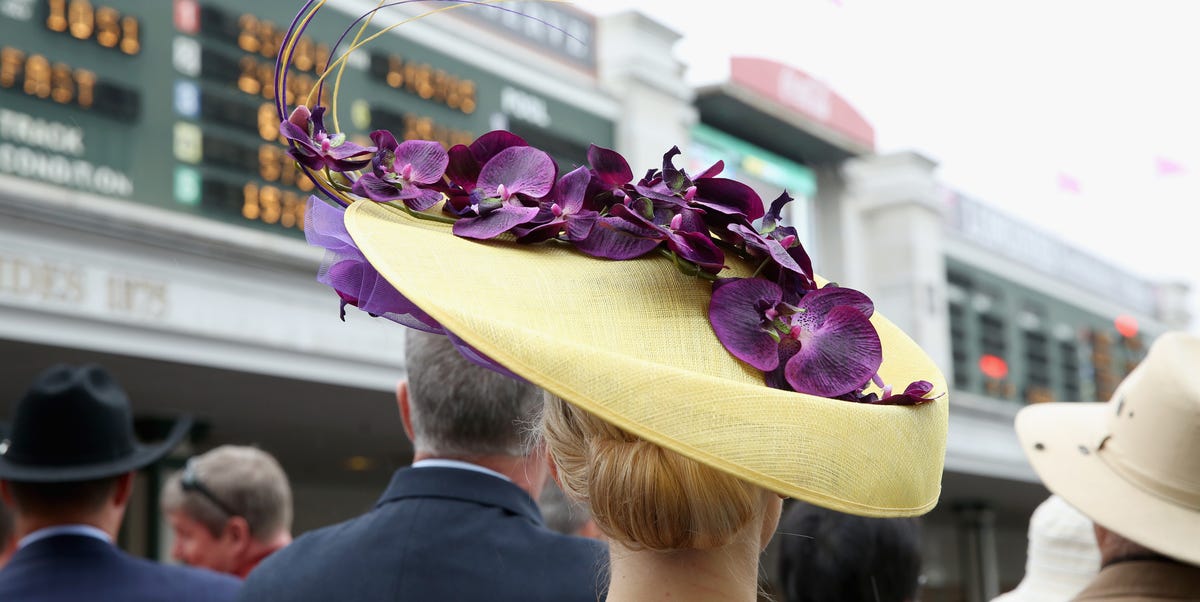 Quotes About Derby hats
Let's be real about Derby hats.. they look like something straight out of The Hunger Games at the Capitol mixed with old-world glam. No matter how you feel about them – there is just something about wearing a hat that expresses your personality and makes you feel fancy!
Don't be afraid to go big and go bold on Derby and Oaks!
"A hat is an expression of a woman's soul. It is something that she wears on her head, but it belongs to her heart. It is the keynote of her personality, the finishing touch that makes her look beautiful, smart, and sure of herself." – Lilly Dache
2. "There are some things one is born to wear, and I had obviously been fated to wear this hat."? Connie Willis
3. "Hats are for life's ultimate moments. They're worn at races, at weddings. Occasions many of us, who aren't royals and celebrities, only attend once or twice in a lifetime." — Philip Treacy
4. "How a hat makes you feel is what a hat is all about." – Philip Treacy
5. Hats almost as big as our hearts.
6. "Observing the tradition from the outside, it looks like it's about looking fine in a big fancy hat. But it's about more than that." – Craig Marberry.
7. Keep calm and wear a fancy hat! – anonymous
Louisville Quotes
Louisville is a place with no labels. It's not the South, it's not Chicago, and you don't think of it as you think of New York or LA. It has some Southern romanticism to it, but also a Northern progressivism, this weird urban island in the middle of the state of Kentucky that has always provided a fertile, often dark, bed. For us, Louisville and the surrounding areas are the center of massive creativity and massive weirdness. The place has its flaws: You move away, but you're always going to come back. – Jim James
"Louisville was also good place for being able to make whatever kind of music you wanted to. You didn't have to worry about renting a practice space or figure out when another band would be in there or worry about if your stuff is going to get stolen." -David Pajo
P.S. Get our full guide to over 100 Fun Things To Do In Louisville, Kentucky now!
Outdoor Adventures
'Nature does not hurry yet everything is accomplished
2. Most Americans don't know how beautiful an area of the country Kentucky is. – Amul Thapar
3. I'd be perfectly happy living anonymously on a ranch in Kentucky, where the only time someone mentioned me was to discuss the crazy lady up the road with all the taxidermy and jerky. – S.E. Cupp
Bourbon Quotes
1. Bourbon, Kentucky bourbon especially, is like Dante's Inferno in a glass, fire walks down your throat, lungs, and heart and everything in between with an unpleasant after-taste. We got along just fine. – Author: Bruce Crown
2. Kentucky, the Bluegrass State, world-renowned home of the best horse races and fine bourbons, is also a place filled with intriguing mysteries that have defied explanation since the first settlers stepped onto its fertile soil and began exploring its beautifully forested mountains and valleys. – Barton M. Nunnelly, Mysterious Kentucky Vol. 1: The History, Mystery and Unexplained of the Bluegrass State
3. I have never in my life seen a Kentuckian who didn't have a gun, a pack of cards, and a jug of whiskey. – Andrew Jackson
4. "Kentucky has always said you can't really make bourbon outside of Kentucky because it's a combination of the barrels and the limestone-fed springs that give us the water. That's our story, and we're sticking to it." – John Yarmuth
5. Keep your friends close and your bourbon closer.
6. Why is the French Revolution just like Prohibition? — They both got rid of Bourbon!
7. I want to start a bourbon company… But it is a whiskey business.
Kentucky Quotes about Food
If you don't know what a hot brown is, let me just put it this way: it takes the perfection of bread, turkey, and bacon, and then sends it all into a different dimension with a Mornay sauce worth trading your waistline for. – Bethany Turner, Hadley Beckett's Next Dish
'Finger lickin' good!' – KFC tagline.
P.S. The hot brown was invented in Louisville Kentucky. Get our guide to over 100 Fun Things To Do In Louisville, Kentucky – including trying a hot brown when the weather turns cold!
For Photographers
1. In the country in Kentucky, people are just amazed that anybody in New York wants to read about their lives. – Author: Bobbie Ann Mason
2. Heaven must be a Kentucky kind of place. – Daniel Boone
3. "A few more days till we totter on the road, Then my old Kentucky Home, good-night!" — Stephen Foster, "My Old Kentucky Home, Good-Night"
4. The city most believed to be the handsomest in Kentucky never failed to impress.. The streets lined with booths and wagons from which people displayed their wares, had a festive air." – Jan Watson
Quotes about Kentucky Basketball
The University of Kentucky basketball team has been an all-time winner in the college leagues for years and years. With a staggering number of wins and attracting players from all over the country (and the world), many of the players only spend a few years playing college ball before they're drafted into the NBA.
Major players like Jodie Meeks and Patrick Patterson went on to play easily renowned teams like the Lakers. More than just the famous players, UK also attracts famous coaches. Adolph Rupp, (who their basketball stadium is named for!), Rick Pitino from 1989-1997, and John Calipari who still coaches today!
1. Duke is an ugly word in Kentucky. Nothing in the world compares to the joy of beating those hateful swine from Duke. – Author: Hunter S. Thompson
2. 'I am more than just a serious basketball fan.' (Talking about UK Basketball! If you're going to a game – you'll quickly understand the rest of this quote about Kentucky basketball fans!) 'I am a life-long addict. I was addicted from birth, in fact, because I was born in Kentucky and I learned, early on, that Habitual Domination was a natural way of life.' – Author: Hunter S. Thompson
3. If you don't like basketball and you're from Kentucky, they'll kick you out! – Josh Hopkins
4. I'm a huge Kentucky fan. So when there was a chance to do the John Wall dance, I went into character. – Josh Hopkins
Headed to Lexington for a UK Basketball game? Get all of our favorite things to do in Lexington here!
Lexington Kentucky Quote
A lot of people visit Lexington for the first time because they're going to a UK basketball game. If you're in the area though – make sure you take a moment to explore all of the amazing things Lexington has to offer!!
5. Lexington, Kentucky looks like paradise. Acres of grass as green and tender as a golf course putting green surround hilltop mansions. New Circle Road–a beltway enveloping the city's heartland like a moat–attempts to separate the wealthy landowners from the encroaching strip centers and fast-food joints that are symbolic of the rest of the state …. Combining the traditional feelings of Southerners with the uniquely gorgeous landscape of the bluegrass, Lexingtonians consider themselves and their region the cream of the crop–not only of Kentucky, but also of the nation. – Sally Denton, The Bluegrass Conspiracy
General Quotes That Pair Well With Kentucky Travels
There are exactly as many special occasions in life as we choose to celebrate. – Robert Brault
The purpose of life is to live it, to taste expereince to the utmost, to reach out eagerly and without fear for new and richer experience" – Eleanor Roosevelt
Song Lyrics & Musicians' quotes about Kentucky
No post about Kentucky quotes would be complete without including lyrics that directly relate to Kentucky! We have a few incredible artists worth mentioning and we also happen to love their music!
'You remind me of a Sunday
Back home in ole Kentucky
With the church choirs just beltin' to the pines
And I love you like the mountains
Love's the way the mornin' opens
To a soft and bright greetin' from the sun'
Shake the Frost – Tyler Childers
2. ' Cause tomorrow will be a long, hard road out of Ohio / And I'll hate every mile / That takes me back to Kentucky and away from your smile / hold me and tell me you need me' – Long Hard Road: Tyler Childers
3. 'So I'm walking in the rain, thumbing for a ride / On this lonely Kentucky back road / I've loved you much too long, my love's too strong' – Kentucky Rain: Elvis Presley
4. 'There ain't enough / Bourbon in Kentucky for me to forget you' – Bourbon In Kentucky: Dierks Bentley
5. 'Way down in Bowling Green / Prettiest girls I've ever seen / A man in Kentucky / Sure is lucky / To love down in Bowling Green' – Bowling Green: The Everly Brothers
Pin This Post!!
Ready to share all of your favorite Kentucky quotes and bits of Southern wisdom? We get it. Kentucky is a magical place! Share this guide with all of your fellow Kentucky travelers!
P.S. If you're a content creator struggling to get Instagram to allow you to add songs, get our guide on all the best ways around this glitch. Wouldn't want you to share your Kentucky travels on Reels without good music!!!
Make sure to subscribe to our blog, snag all of your road trip basics (below), get your travel insurance, and have fun jamming to a new playlist!
Until next time friends,