15 Cozy Cabins To Inspire Your US Winter Getaway
Getting away to the mountains and cuddling up in a cabin sounds pretty amazing these days! From East to West Coast – we've found 15 amazing cabins to cuddle up in. (We even knocked one off the list in Asheville!)
Our criteria for the perfect cozy cabin getaway were: epic scenery, privacy, and sometimes….a hot tub with epic views. There are 15 across the United States that look amazing, and all have everything you need for the perfect weekend getaway!
---
1. SkyCabin – Skykomish, Washington
First things first – this epic cabin in Washington has an outdoor movie area!? This is the first time we've ever seen anything like that in a cabin rental. This one sleeps six as well, so that's perfect for families! Enjoy a bourbon and ginger while the kids watch a movie in one of the prettiest areas of the US? Yes, please!
The best thing about this cabin is it's proximity to Seattle. You're an hour and a half away from Seattle- but only 30 minutes to the closest grocery store. In our experience, after exploring a big city – you need to get away to a cabin. The fun and the excitement of exploring can leave you feeling like you need a vacation from your vacation. Cap off your road trip through Washington by getting far away in the forest!
---
2. East River Nest – Mt. Hood, Oregon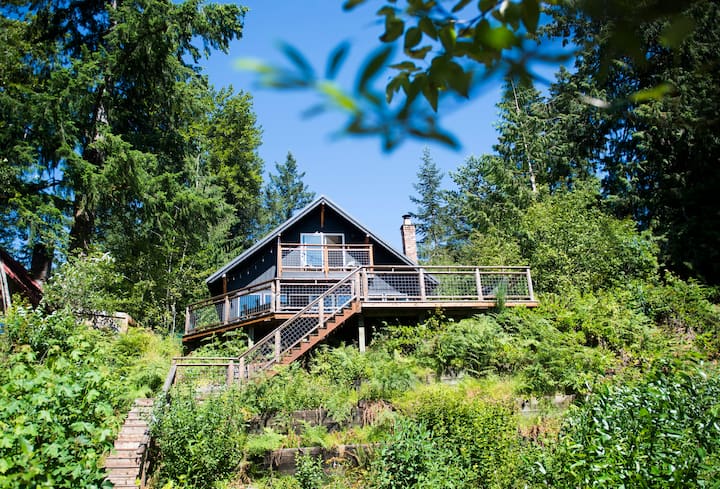 Moving down into Oregon – this picturesque cabin is entirely secluded in the mountains. Being just an hour away from Portland, Oregon – you can make a quick day trip and and still cozy up in a cabin and see the stars at night. Sometimes this is our favorite way to travel – staying far away from the city but still getting to enjoy the perks.
This cabin overlooks East River and the hottub is located on an uncovered deck with the perfect view of the stars! For winter cabin getaways – having an open sky above your hottub is a must. You need to be able to see the stars while the snow is falling! There are over 174 inches of snow that fall there every year making it a perfect ski getaway weekend as well.
Best Ski Resorts In The Area: Timberline Lodge, Mt.Hood Meadows Ski Resort, Mt.Hold Skibowl
Best Hiking Areas Near This Cabin: Trillium Lake Trail, Mirror Lake, Clear Lake Butte Lookout
Book the East River Nest in Mt.Hood, Oregon
---
3. The A-Frame Treehouse – Shasta County, California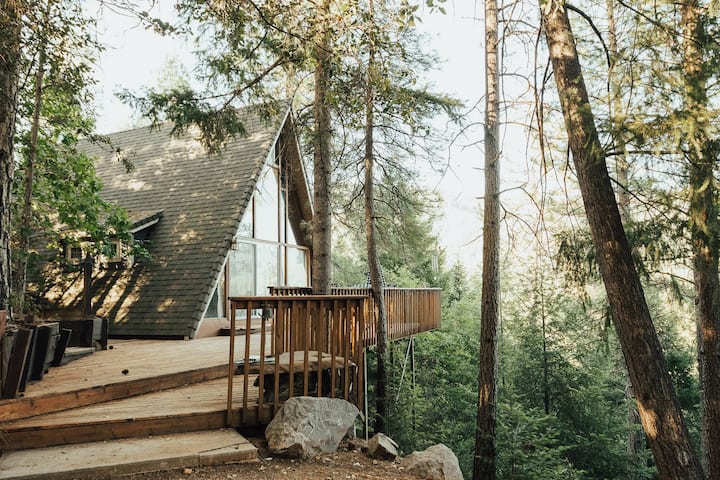 The cabin is a crossover between a cabin and a treehouse.. and we're really not mad about it! This cozy weekend getaway is located smack dab in between five different national forests in Northern California: Shasta Trinity National Forest, Madoc National Forest, Six Rivers National Forest, Lassen National Forest, and Mendocino National Forest.
The cabin's location makes it perfect for hikers looking to get away from the hustle and bustle of California. Especially since in the winter – it still snows there! We never think about California as a winter getaway – but Northern California is just as snowy as other winter wonderland destinations!
Rent the Shasta A-Frame Treehouse
---
4. Cedar Hot tub Cabin – Topanga, California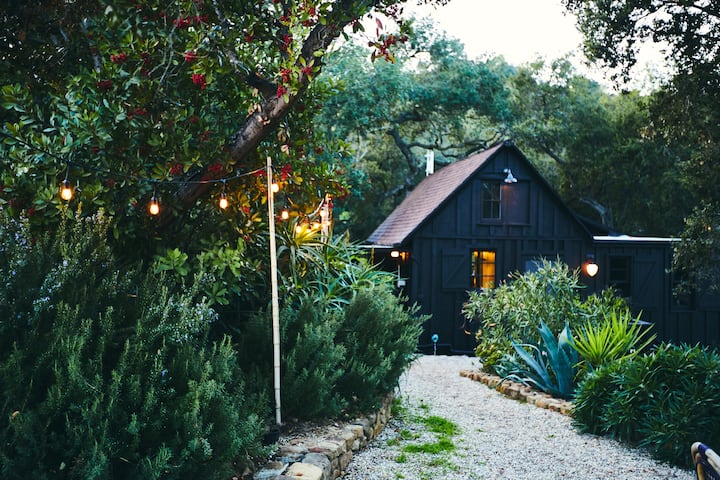 Moving further South into Topanga, California – this cabin on a biodynamic farm is located just minutes from the beach in Santa Monica. With a private fenced drive, a hammock, and an inset hot tub – there really is no need to leave? If you're looking for a rural escape away from Los Angeles – this is the place to go. (Especially if you haven't been anywhere since the pandemic started – this cabin getaway is a splurge but oh so worth that time away! Since it's on a biodynamic farm – you guaranteed some of the freshest air close to the city!)
If you're feeling the need to leave the cabin for any reason – the top things to do in the area are visit Los Angeles itself (about 45 minutes away). An amazing hike in the area is the Top of Topanga Overlook!
Rent the Cedar Hot Tub Cabin in Topanga, California
---
Don't Have Time To Read? Pin For Later!
5. Romantic Le Petit Bijou Cabin – Idaho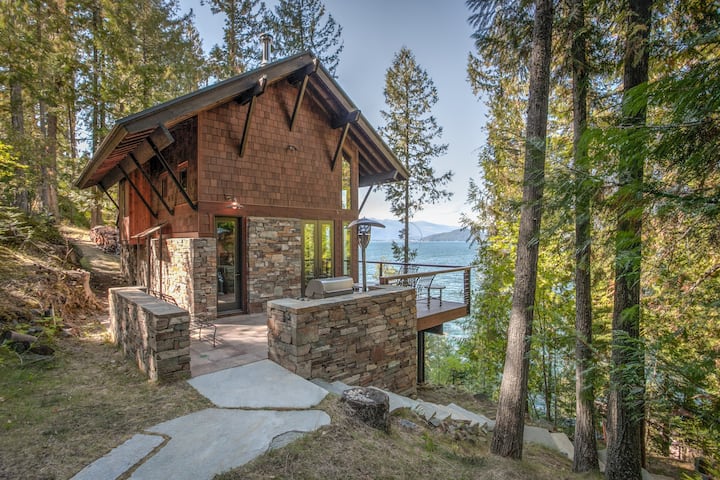 Did anyone else not realize that Idaho was so beautiful? After getting out west in the last few years – we started thinking about moving out west. Mountains, rivers, lakes, and no humidity? The perfect combination if you're active and love scenic views!
This winter cabin rental is located on Lake Pend Orielle with stunning views of Schweitzer Mountain! The best part? You have a private dock down on the lake to walk out and sip your morning coffee! If you're up for an adventure – make sure to visit the Cedar Street Bridge Public Market for some tasty treats to take back to the cabin, or visit some of the ski resorts in the area. (Winter is the perfect time to bundle up for the slopes and then come home to the cabin's cozy stove!)
Rent Le Petit Bijou Cabin in Idaho
---
6. Log Cabin on Flathead Lake – Montana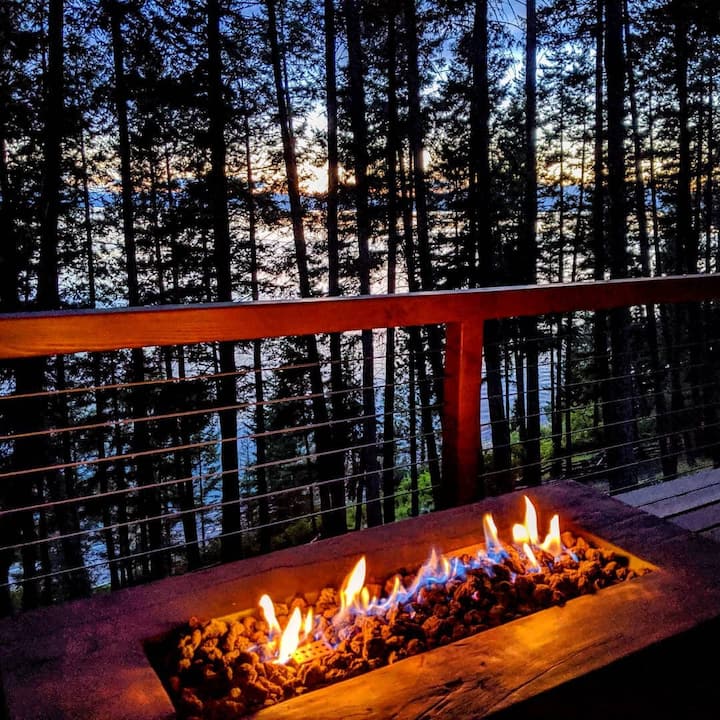 With an outdoor fire pit and a view of the lake – this cozy log cabin has everything you need to whole up for a perfect romantic weekend away. We would take advantage of the deck and the fire with big blankets, a great bottle of wine as we watched the sun go down. But that's just us…
If you're feeling like leaving the log cabin – there is a ton to do in Montana. From wildlife tours to snowmobiling, Montana gets serious snow. When we say serious snow we mean snow that's literally 4 feet deep sometimes?! Snowmobiling is on our adventure bucket list, and we could definitely handle seeing a magnificent herd of elk along the way?
Rent This Log Cabin In Montana
---
7. Sundance Carriage House – Provo, Utah
Moving further East across the country we find this stunning Carriage House in Provo, Utah. If it doesn't look like a straight-up fairytale – I don't know what does? Also, I think staying here would make us feel totally fancy! (Not to mention that staircase would make an epic Instagram shot!)
Provo, Utah is a town we're dying to hit. Not only is it super cute, but the food and art scene is an indie eclectic mix that's perfect for a little winter getaway. All of the necessary amenities come with this cabin as well: Wi-Fi, a hot tub, and a firepit after you're done adventuring all day!!
---
8. Granite Ridge Cabin – Jackson Hole/Teton,Wyoming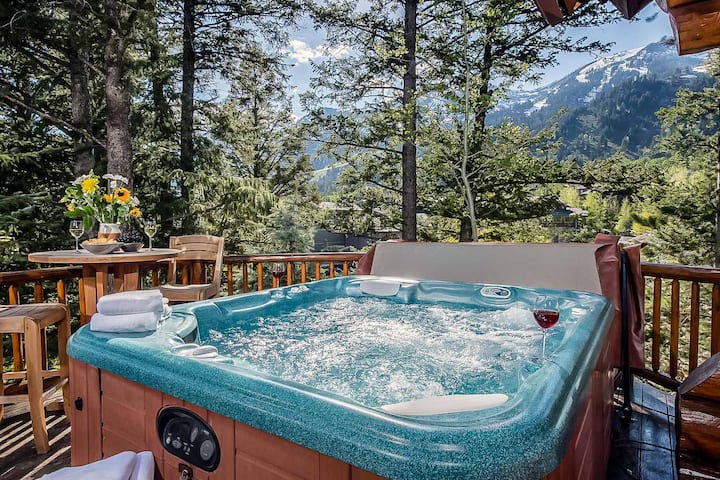 We're going to go ahead and assume you've heard of the Grand Teton and Yellowstone National Park? This luxury cabin is tucked away into the Teton Mountains close to all of the sites you want to see, including Jackson Hole, Wyoming.
Jackson Hole, Wyoming was on our list of Best USA Fall Honeymoon's because it truly is so epic!! There is a ton to do in the area – not to mention that the picturesque mountain views follow you on every adventure.
Book This Epic Mountain Cabin Now
---
9. Epic Scenery Log Cabin – Glenwood, Colorado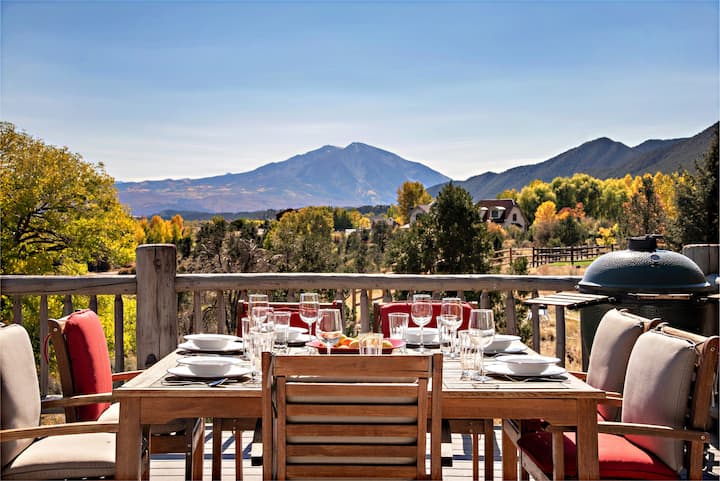 Splurge. Worthy. Views.
Sometimes a place will make you feel like you never want to leave.. and we're convinced that this stunning cabin in Glenwood Springs is one of the places. Have you ever been to Colorado? We can tell you from experience that the clarity of the air, combined with stunning mountain views makes for pretty incredible sunsets. Imagine sitting on this deck with a glass of wine, scarf thrown over your shoulder… #fancy….
Besides the view, there are plenty of reasons to visit Glenwood – most notably the historic Glenwood Hot Springs! We spent an evening there and it was absolutely amazing! (We're writing up a full guide on that soon!)
Book Now And Get Ready For These Views
---
10. Private Lakefront Cabin -Lake Superior, Minnesota
If you're looking for a romantic getaway near the Great Lakes… this is the cabin for you. As you can tell by the photo -it's completely secluded and ready for you and your partner so explore and enjoy. (Wouldn't mind coming back here in the summer either?) But the winter would be so amazing! The views from the deck out over those crystal blue waters surrounded by snow-covered pines would be amazing!
The cabin is located near Two Harbors and Beaver Bay – so there is ton's to do in the area! Visit Gooseberry Falls for a spectacular frozen waterfall or see the Split Rock Lighthouse for a few outdoorsy adventures!
Book The Epic Lake Front Cabin
---
11. Fox Pass Cabin – Hot Springs. Arkansas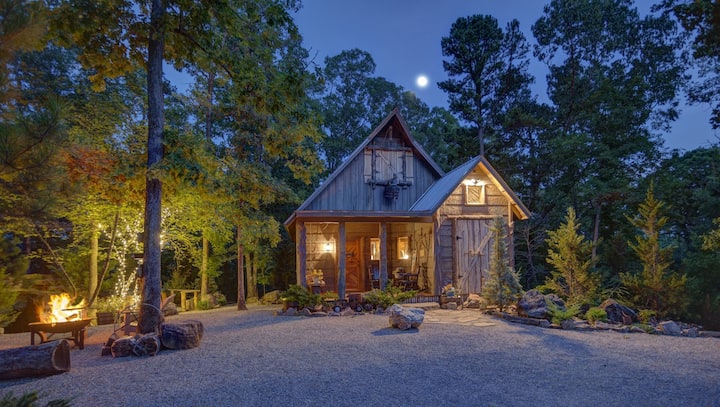 This cabin in Arkansas is another pick purely based on the natural hot springs in the area. The Ozark mountains surrounding the cabin are beautiful and full of hiking trails, but people come for the hot springs.
Hot springs in Arkansas?
We know. Sounds weird but if you live on the Eastern side of the country – it's pretty exciting to realize there's hot springs on this side of the US! There is also a ton to do in the area like the MidAmerica Museum, and the Thorncrown Chapel. (Visiting a chapel may not sound like the ideal vacation excursion but trust us – this one is worth the trip.)
Book and Start Exploring Arkansas
---
12. Red River Gorge Retreat – Stanton,Kentucky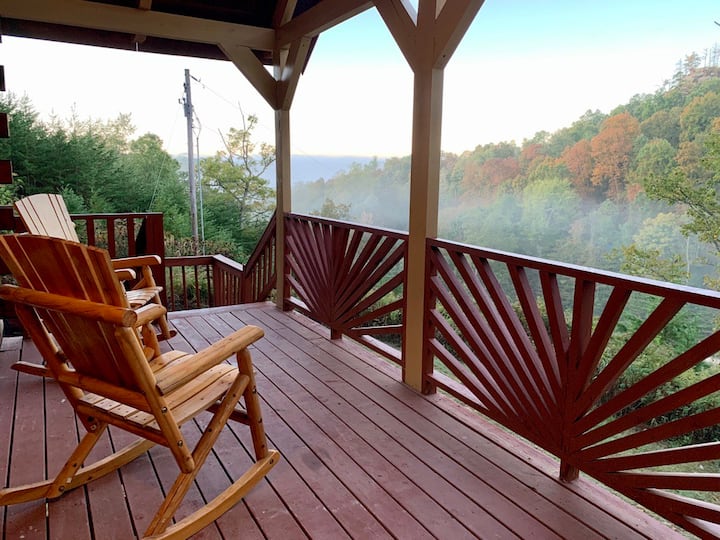 Say Red River Gorge retreat five times fast real quick… we couldn't do it either without falling into a pile of babbling nonsense!
Anywho, Red River Gorge is our favorite place in Kentucky and truly a hidden gem. We've been hiking there more times that we can count and it's beautiful all year long. For most Kentuckians, it's a point of pride because it's a rock climbers, hikers haven that no one really knows about!
This cabin provides some pretty spectacular views of the morning mist over Red River Gorge and will put anyone in the mood to explore. Imagine sitting in one of these rocking chairs looking out at the gorge as the sun comes up… with a nice cup of tea because coffee is gross…
Book this Red River Gorge Retreat
---
13. Working Horse Farm Cabin- Asheville, North Carolina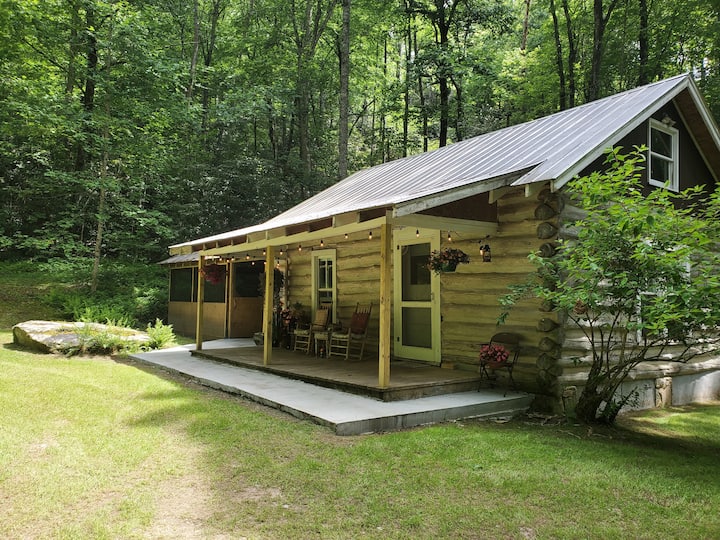 We stayed in this cabin and we're so excited to share it with you! Sitting on a working horse farm with its own private waterfall.. this cabin, (south of Asheville), is amazing. It's really located in Hendersonville as a suburb of Asheville, so you're guaranteed to have less traffic, less noise, and more stars at night than if you stay anywhere close by.
The best part about our stay was that we got to go horseback riding!
Book This South Asheville Horse Farm Retreat Now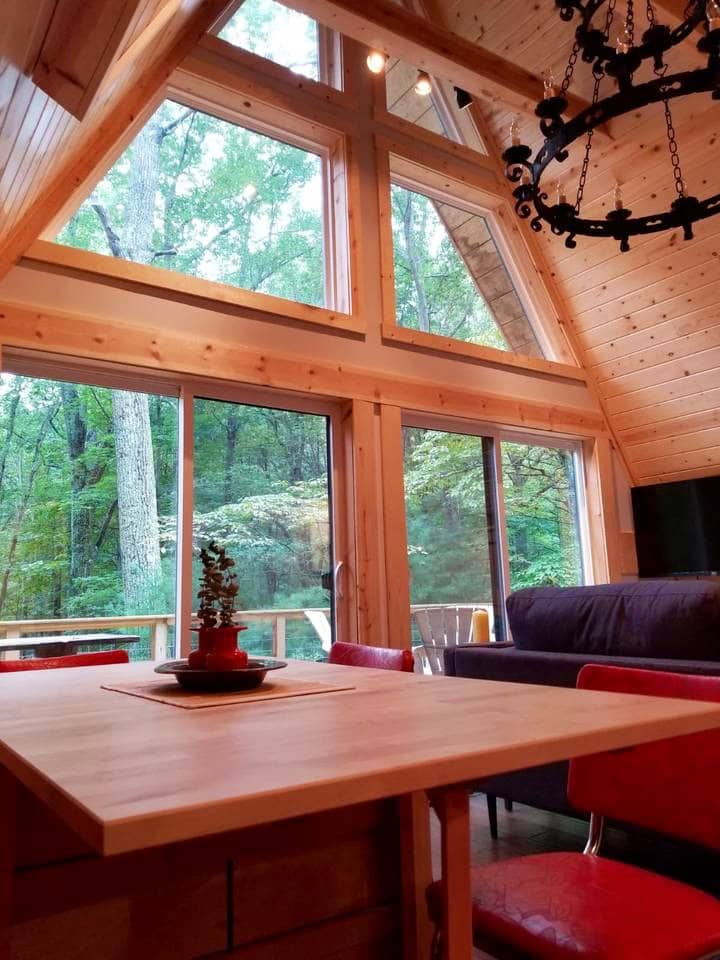 The best part about visiting West Virginia is that it's so quiet and uncrowded. This cozy cabin tucked away into the trees takes full advantage of that with big windows and no one else around. You can sit on the comfy couch , read a book and take in nature through those big windows – all away from the cold of the mountains!
West Virginia is not a state where you're going to find a ton of trendy shopping, but they do have incredible hiking and ski resorts!! Join our mailing list for all of our bucket list snowboarding experiences coming soon! (West Virginia is home to Snowshoe – one of the best ski resorts in the South East!)
When you're ready to get out and hike – see our guide for the Monongahela National Forest in West Virginia. The sunsets are incredible and you won't regret it!
Book Your West Virginia Weekend Escape Now!
---
15. New York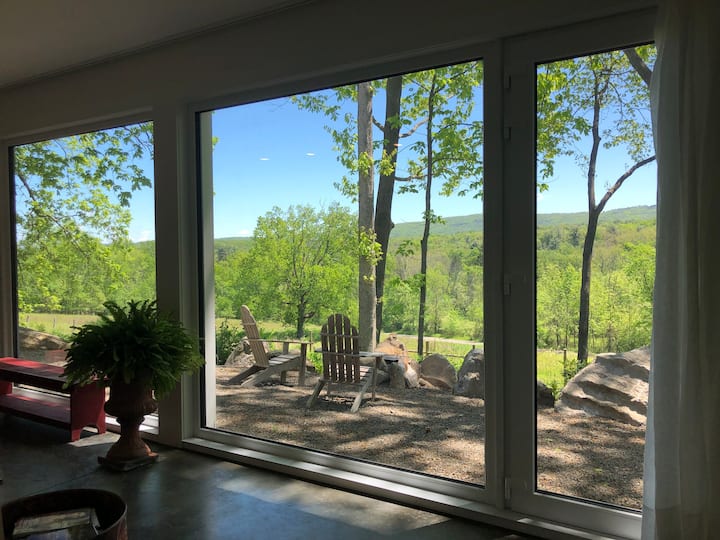 Set deep in the Mohonk Preserve, this cabin's best feature is the 22 foot-long bank of windows looking down into the valley below. While there are a ton of cabins in New York – we always love the ones that are tucked away! The remote nature makes this cabin perfect for anyone truly escaping the Big Apple.
If you're looking for what to do in the area, you have to check out a few hikes and the wineries. Close by is Minnewaska State Park, Awosting Falls (pretty when frozen!), and Lemon Squeeze Hiking! You can also go ice skating at the Mohonk Ice Skating Pavillion!
Book This Quiet New York Retreat Now
Get $65 Off Your Booking
There are so many cabins across the US perfect for anyone looking for a quick winter getaway. Whether you're with a partner or just by yourself, use our referral here to save money for more wine! ; )
Found a place you can't forget? Save this post to your Pinterest and keep exploring later!