12 Prettiest Day Trips From Louisville
Louisville sits on the northern border of one of the prettiest regions in the country. Our city is surrounded by four national forests within a two-hour scenic drive, the largest US collection of historic buildings from the 19th century, and gorgeous distilleries dotting the landscape. We're proud to be Louisvillians, but as much as we love our city, we all need to get out and explore a little bit from time to time. We've compiled our favorite day trip destinations from Louisville within a two-hour drive and what month to go!
Planning a road trip? Here are a few other posts to help you plan!
Owensboro, Kentucky
Owensboro is a two-hour road trip from Louisville and a perfect destination for January! As far as quaint Kentucky towns go – Owensboro has all the makings of a perfect winter getaway. **Another great thing about traveling to Owensboro is that because Louisville is on Eastern time and Owensboro is on central time – you'll get there an hour earlier to start your trip!
One of our favorite things to do in the winter is walking historic streets lit up with twinkly lights while snagging some coffee. Owensboro, Kentucky has one of the longest historical main streets perfect for taking a stroll with your loved one under the lights! As for what else to do out of the cold, Owensboro is home to a few great museums and great local Southern restaurants!
The Bluegrass Music Hall of Fame – As music junkies, this museum is top on our Owensboro bucket list! Artists like The Stanley Brothers and Earl. J.T. Gray have been being inducted into the Hall of Fame since 1991. For a schedule of live music events at the Bluegrass Music Hall of Fame – see here.
Address: 311 West 2nd St. Owensboro, KY 42301
Hours: Wednesday – Saturday: 11 AM – 5 PM Sunday – Tuesday:  Closed
Owensboro, Kentucky, is the BBQ mecca of the Midwest!!
There's something special about BBQ in Owensboro. If you like juicy brisket, spicy, succulent sausages, smoked mutton dripping in house-made BBQ sauce, and burgoo – you need to be in Owensboro as soon as possible! Three restaurants have been running for best BBQ in Owensboro: Moonlite Bar-B-Q Inn, Old Hickory Bar-B-Q, and Ole South Bar-B-Q.
As the 4th largest city in Kentucky and only 2 hours away, Owensboro is for a perfect winter weekend getaway from Louisville!
Get our full guide to all the fun things to do in Owensboro, Kentucky here!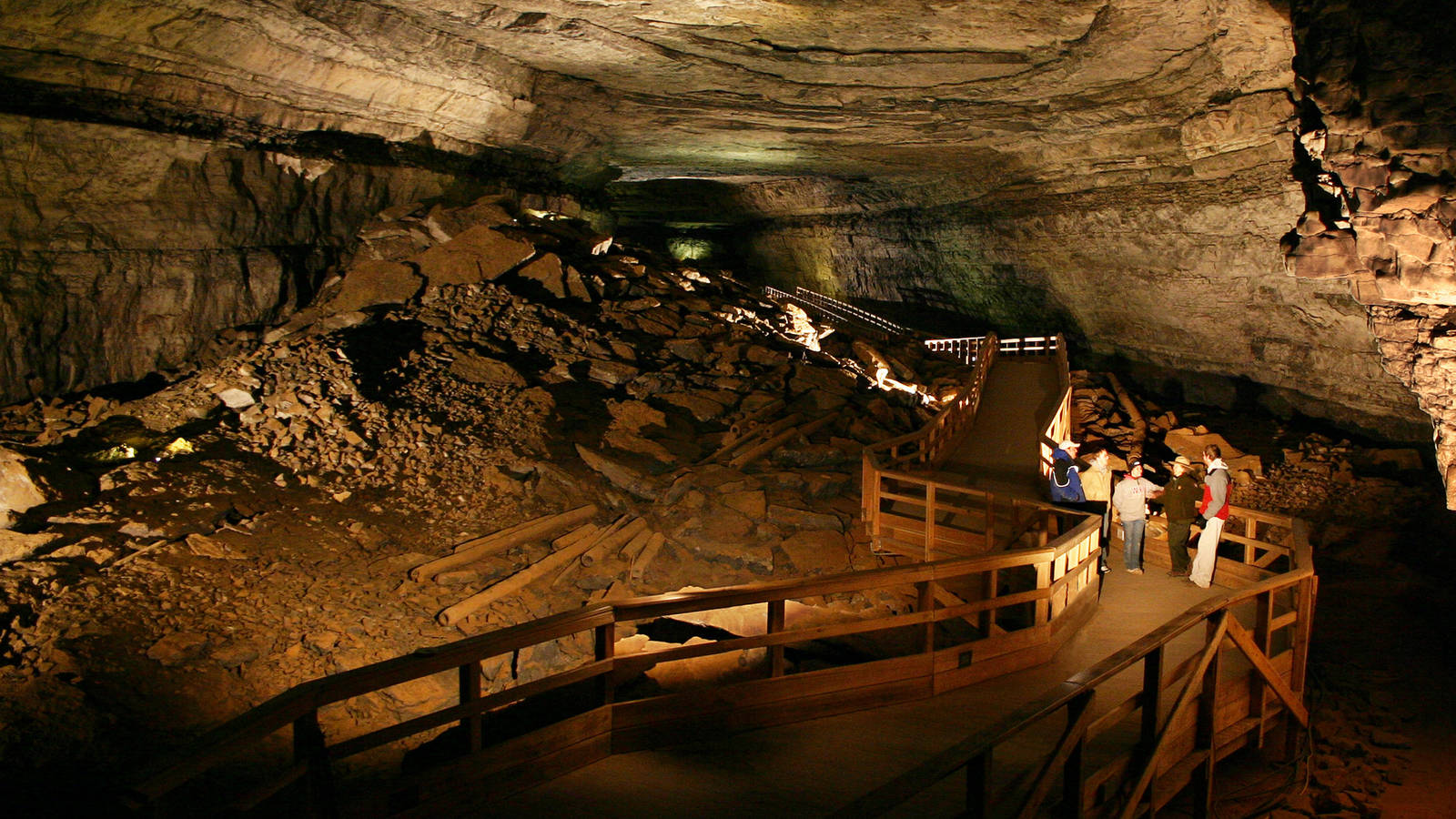 Mammoth Cave, Kentucky
In the month of February, another great day trip from Louisville is to head down I-65 South to Mammoth Cave.
There are a few places in Kentucky that can take your breath away, and Mammoth Cave is one of them. Not only is it the world's longest cave system – but it's also the only internationally recognized UNESCO World Heritage site in Kentucky! The first humans on record to have explored Mammoth Cave are from 5,000 years ago. While Mammoth Cave isn't the only ancient human archeological finds in Kentucky, Mammoth Cave's findings are certainly the oldest!
Best Tours at Mammoth Cave
With various ranger-led tours both above ground and in the cave – it's a perfect day trip destination from Louisville. Since Ev is actually from the area, here is the low down on the best Mammoth Cave tours that we would spend our time doing again!
The Broadway Tour – This is the best tour for someone who has never been to Mammoth Cave before. You'll want to take this guided tour for an explanation of all the best parts of the cave, like the Rotunda, Broadway Avenue, and the historic 'Tuberculosis Huts'.
Duration: 2 Hours | $18 Adults, $13 Youth, $9 Senior Pass Holder, $9 Access Pass Holder
Wild Cave Tour – This one is actually on our bucket list. Not only are only adults (18 and over) allowed, you're also required to wear above the ankle hiking boots, and you're provided with coveralls, helmets, knee pads, and headlamps. The National Park Service even lists this tour as 'very physically demanding', with long periods of time getting through tight crawl spaces and difficult climbing areas.
Duration: 6 Hours | $66 Adults, $33 Senior Pass Holder, $33 Access Pass Holder
Violet City Lantern Tour – The best combination of hiking and history. Not only will you be carrying lanterns to see the cave by, but it's also a true hiking experience up and down steep hills! We highly recommend hiking boots for this one!!
Duration: 3 Hours | $25 Adults, $20 Youth, $12.50 Senior Pass Holder, $12.50 Access Pass Holder
Mammoth Cave is 1 of 24 Unesco World Heritage sites in the United States.
Photography at Mammoth Cave
If you're interested in photography, you'll want the Frozen Niagara Photo Tour or the non-guided Discovery Tour. Just remember that there is no flash photography allowed. There are many species of bats and other nocturnal animals that flash-photography would disturb. Leave no trace principles mean more than just not leaving trash behind!!
To make a full day when you want to do all the things on your mini road trip from Louisville, there are a few other things to do in the area! You're also close to Onyx Cave, hiking, rivers for kayaking, and a ton of campgrounds.
Address: 1 Mammoth Cave Parkway, Mammoth Cave, Kentucky 42259
Distance from Louisville: 1.5 hours from Louisville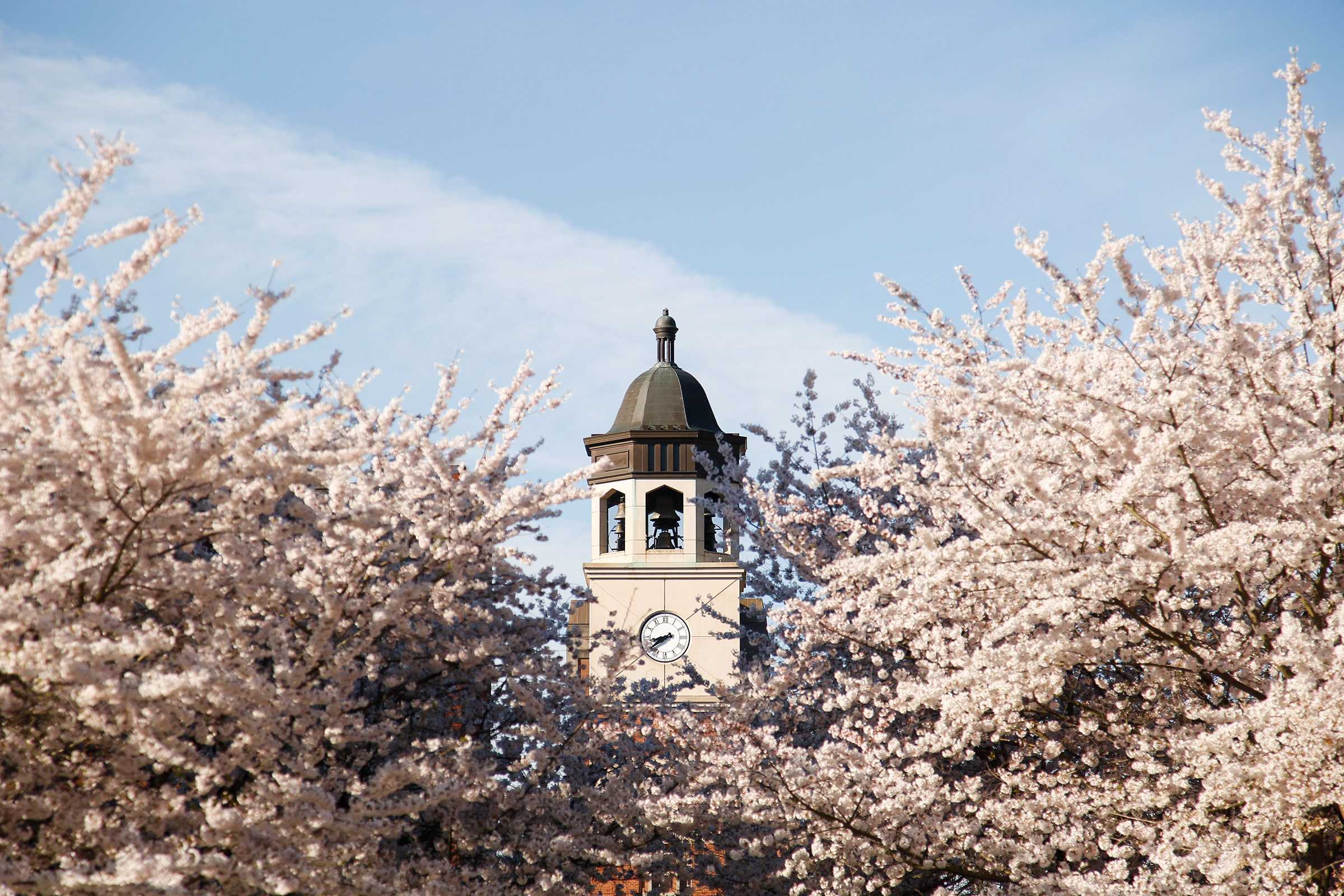 Bowling Green, Kentucky
We know what you're thinking… What is there to do in the tiny town around Western Kentucky University? For a fun, relaxing day trip from Louisville, see WKU's campus cherry trees bloom, the Corvette Museum, Lost River Cave, and visit Amish territory. This tiny Southern slow-time town makes for a charming destination! (And we're not biased just because Shelb's went to school here or that Ev is from here!) Distance from Louisville – 1 hour and 45 minutes.
So what will you do on a beautiful spring day in Bowling Green, Kentucky?
The Corvette Museum: Normally we're not big auto- museum folks but one of the coolest parts of the Corvette Museum is that you can see the cars that fell into 'the sinkhole'. Doesn't it almost sound like some sort of Biblical tragedy? The sinkhole happened in 2014 and now they've left parts of it open as an exhibit!
Address: 350 Corvette Dr, Bowling Green, KY 42101
Hours: 8 AM -5 PM Monday – Sunday
Lost River Cave: Just like it sounds – a river flowing through a cave is pretty amazing to see! You can even take underground river boat tours here.
Address: 2818 Nashville Road, Bowling Green, KY 42101
Hours: Monday – Sunday (Tour times vary.)
If you haven't gotten enough of racecars at the Corvette Museum, head over to the NCM Motorsports Park. You can drive sports cars or ride along with a professional driver on a racetrack in a sportscar! Would there be anything better than feeling the wind through your hair on a zero – humidity perfect 70-degree day in the Bluegrass? We think not.
WKU's Cherry Tree Row
WKU's Cherry Tree Row: It might sound silly, but every year in March, people come from all over to walk down the middle of campus and see the cherry trees bloom! ** If you're looking forward to doing this – we highly recommend going in the afternoon when the sun sets around 6 or 7 pm.
Address to WKU Cherry Tree Row: 1906 College Heights Blvd. Bowling Green, KY 42101
P.S. Since March is officially when our beautiful home state wakes up, and the weather warms up. Make sure to visit Chaney's Dairy Barn for that ice cream you've been waiting for all winter long!!
Lexington, Kentucky
If we were planning a day trip to our favorite neighbor city Lexington, we would spend a whole day surrounded by the prettiest parts of the countryside here in April. Not only are the cherry trees still in full bloom until around mid-April, but this is also horse country.
When you think of Kentucky and its gently rolling fields, white picket fences, and barns bigger than most people's homes… you're thinking of Lexington. April in Lexington really is amazing because the countryside starts to wake up, and you'll see fields start to turn that vibrant 'blue-grass' color.
What's the best way to enjoy a leisurely day trip from Louisville? Plan your visit around horses!
Kentucky Horse Park: More than just a place to see horses, the Kentucky Horse Park provides a campground and access to a truly immersive equine experience. Horseback riding, the International Museum of the Horse, horse shows, and 'stall-side chats' are all available during your stay or for the day-trippers!
Address: 4089 Iron Works Pkwy, Lexington, KY 40511
Hours: Wednesday through Sunday 9 AM-5 PM
Keeneland Spring Meet: We're sure you've heard of Churchill Downs? Home to the Kentucky Derby and the 'fastest two minutes in history'? Keenland is the smaller and more local version of Churchill Downs. You'll spend the afternoon playing cornhole, sipping bourbon and gingers with your friends in brightly colored clothes… it's really and truly a perfect afternoon!!
Address: 4201 Versailles Road, Lexington, Kentucky 40510
Hours: **Keeneland Spring Meet is from April 3- April 23rd.**
If you're looking to be in nature a little away from the city, head to the Lexington Cemetery for a stroll to see the cherry trees or Raven Run Nature Sanctuary.
Distance from Louisville: 1 Hour
Explore our guide to 50 Fun Things to Do In Lexington, Kentucky for all ages!
Bernheim Forest, Kentucky
Speaking of scenic drives in Kentucky, Bernheim Forest is one of the most serene forests near Louisville. Typically when we're looking for a little outdoor time in Louisville, there are a ton of city parks. If we're looking to try a few harder trails, though, Bernheim Forest is only about 40 minutes from Louisville and a perfect day trip escape.
There are over 40 miles of hiking trails to explore so we're going to break down our favorite trails:
Elm Lick Trail – We hike this one every time we go to Bernheim because it's so pretty! Crossing over and around multiple streams, listening to the giant bullfrog's screech, and a few steep scurry-up-the-hill climbs, it's far from a boring trail. There isn't a 'destination' per se but it's beautiful nonetheless. P.S. It may not sound peaceful to hear bullfrogs screech but we can assure you it's a good laugh once you hear it!
Duration: 5.0 Miles
Difficulty: Hard
Lake Nevin Loop – This is a gravel trail so really better for walking than actual hiking – but it's so pretty! You'll be walking around a lake which would be perfect after a harder trail like Elm Lick Trail.
Duration: 1.5 miles
Difficulty: Easy
Millennium Trail – Millenium trail will probably require its own day trip from Louisville to complete. You're also required to register at the Visitor Center before starting this trail so that the forest service can keep track of who's hiking in and out on this trail. (For your safety!)
Duration: 13.75 miles
Difficulty: Hard
Even if you're not a big hiker, there is plenty of space to stretch out for a picnic; visit the forest learning center and Bernheim's Edible Garden & Research Building. Don't forget to snag a picture with the forest giant sculptures from our Kentucky Spring Bucket List!
Address: 2075 Clermont Road, Clermont, Kentucky 40110
Park Hours: Monday through Sunday 7 AM – 8 PM
---
Spring Mill State Park, Indiana
Heading out of state, Spring Mill State Park in Indiana is another scenic destination for a day trip from Louisville. Spring Mill State Park is a preserved Pioneer Village from the early 1800s. You can take a boat tour of the Twin Caves, walk the pioneer village to see the grist, sawmill, and 20 other preserved buildings, or hike the preserve. If you decide to extend your stay – make sure you try out staying at the Spring Mill Inn!
The weird & wonderful part of this park is that it's also home to the Gus Grissom Memorial Museum, honoring Gus Grissom, a local NASA astronaut? So after you've gotten your fill of the black from the past – head over to the museum and get a little futuristic!
Address: 3333 IN-60 E, Mitchell, IN 47446
Hours: Monday through Sunday 7:30 AM – 11 PM
---
Shaker Village, kentucky
Heading back into Kentucky for another preserved village day trip from Louisville is Shaker Village. Home to waterfalls, an incredible farm-to-table restaurant, and the largest collection of 19th century preserved buildings in the US – it's sort of picture-perfect. Being an hour and ten minutes from Louisville means it's also attainable picture perfection!
Here's how to have the perfect summer day at Shaker Village: hike or bike the trails, eat, and listen to live music. Sans cell phone if you can help it!
Whenever we're visiting these historic villages, the best part about them is how quiet they are. Chances are if you're looking to escape for the day, it's because you need to let your mind flow and relax. There really is no better place than some of these historic towns. The water, the landscaping, and the plush picnic-worthy grass.. take our word for it!
The Best Trails at Shaker Village
Address: 3501 Lexington Road, Harrodsburg KY 40330
Hours: Sunday – Saturday 10AM – 5PM
---
Holiday World & Splashin Safari, Indiana
As a kid, Shelbs went to Holiday World a ton with her family. Our family isn't a huge fan of theme parks, but this is one park we'd go back to all the time! Holiday World is the best kind of day trip because you can totally escape. You don't have to worry about a thing, and in our experience, your day is so much more pleasant than Disneyland, etc. With the well-maintained, super safe rides and the cleanest water park we've ever been to – it's enjoyable even for adults!!
Our favorite water rides were always the Mammoth Water Coaster, the Zinga, and the Wildebeest Water Coaster over in the Splashin' Safari. As for the park's non-swimming side, we always loved the Hallowswings and the Thunderbird Steel Roller Coaster.
**Tip: If you're just in the mood to relax – you can hit up the wave pool over in Splashin' Safari!
Perks of spending the say at Hoiday World:
It's the cleanest theme park we've ever been to! Employees are constantly cleaning even pre-Covid.
Non-alcoholic beverages and sunscreen are free all day long.
Theme park and waterpark all in one.
Address:452 E. Christmas Blvd., Santa Claus IN 47579
Drive Time From Louisville: 1 Hour 20 Minutes
---
Clifty Falls, Indiana
Clifty Falls is the perfect day trip from Louisville if you're looking to spend the day outdoors in September.
It's hot but not miserable during this time of year, so where you're sure to get wet along the trails will be more fun! Usually, by this time of year, the water will have warmed up, and you'll have an easier time in the water crossings.
If you're the competitive type – you can also participate in the Four Falls Challenge of Clifty Falls State Park! The competition is simple: you pick up your map from the Nature Center and take photos of 7 specific waypoints along your hike. The hike should take you 2-3 hours along the old railroad tracks, a 600-foot-long tunnel, and 4 different waterfalls!
Best Trails at Clifty Falls State Park
*The trails at Clifty Falls don't have names marked on the map – they have numbers. In other places, we've found the names, though!
Get Your Clifty Falls Map Here!
Address: 2221 Clifty Drive, Madison, Indiana 47250 **This is the entrance at the North Gate!
Driving Distance from Louisville: 1 hour
---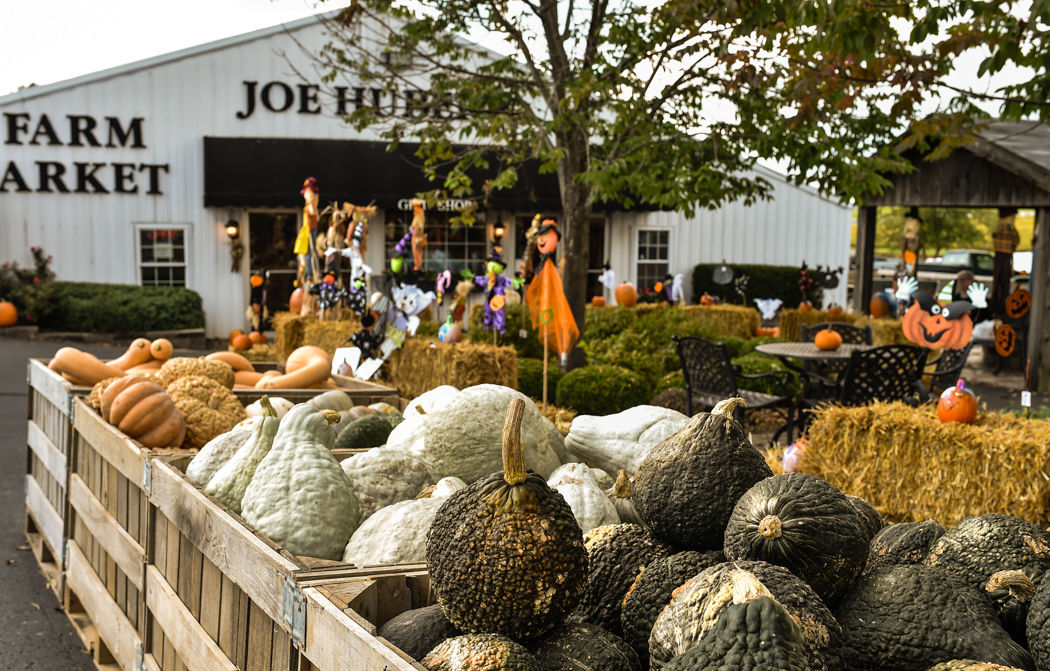 Huber's Orchard & Winery- Indiana
We can't tell you how many October's we've spent cruising through the countryside to this hidden gem tucked away in Indiana. Huber's is the picture-perfect day trip from Louisville that we all need! And we mean need… every year.
If you're in the area, Huber's is best for soaking in all things fall-fun in this region of the country. Imagine picking your pumpkins, eating pumpkin ice cream, and sipping on delicious blackberry wine from the winery? All while a cool breeze from the Appalachian mountains rolls across your favorite fuzzy sweater as you sip your wine.. you can practically feel the stress melting off of your body, right?
Tours & Tasting Experiences – Loved doing a tasting and even took our giant German Shepherd inside while doing it! Granted, he just laid at our feet the whole time, but it was amazing! We are also excited to do the Starlight Winery's entire tour, including seeing their still room. Something about a copper still makes us Kentuckians feel at home!
Apple Picking – The most Instagrammable and actually fun activity in the fall! Perfect for girls' groups or date days! Highly recommend going home and baking an apple pie when you're done. The market offers their homemade ice cream for sale. Literally drooling at the thought of apple pie and ice cream as we write this!
Pumpkin Picking – You'll definitely ride a tractor and get covered in hay from the haybale seats – so don't try to go crazy with your outfit. Just have fun with your day!
For us city slickers..
As Louisvillians, many of us are used to city life and don't know what 'country life' feels like. That slower pace of life, where tractors drive down the road, and you get to go 20 miles an hour for a few miles? You will not realize how fast-paced your life has been until you're starting at a tractor butt for 20 minutes. This kind of reflective break comes free of charge when you visit Huber's!! And we say that with love because we could all probably use a little more of that!!
Address: 19816 Huber Rd, Borden, IN 47106
Hours: Monday through Saturday 10 AM to 6 PM
---
Berea, Kentucky
One of the prettiest areas within 2 hours of Louisville is Berea, Kentucky. Not only is the drive to Berea scenic, but some of the prettiest hikes in Kentucky are in Berea.
There really is so much to see and do in the mountains in the Eastern portion of Kentucky. You have Red River Gorge, Cumberland Gap, Big South Fork, Daniel Boone National Forest – all apart of the Appalachian Mountain Range. The Appalachian mountains are stunning, but to really explore them the way they deserve to be explored – you'll need to break them up into bite-sized pieces.
Berea is always a good introduction to mountain life because it sits on the edge of the Daniel Boone National Forest, in what we call 'the Foothills.' The foothills of any mountain range are basically the mountains' baby portions before you drive deeper into the taller, windier sections of the mountain range.
Best Hikes in Berea
East and West Pinnacles of Berea – Sweeping, unforgettable views!! You'll actually also get to see Indian Fort Lookout and Eagle's Nest. All 4 are equally beautiful. **Please take water no matter what time of year! We saw people attempting this without bringing water, and that seemed semi-crazy!
Duration: 6.6 miles
Difficulty: moderate
Indian Fort Lookout – This is basically the hike to do if you want to see views and be done within two hours. You won't get to see all of the pinnacles, but the views will be worth the hike still!
Duration: 2.0 miles
Difficulty: moderate
Anglin Falls – This is a harder hike but well worth the efforts! When you get to the falls, you're rewarded with one of the most picturesque fairy tale scenes we've ever seen in Kentucky.
Duration: 1.7 miles
Difficulty: moderate
When you head to Berea in mid-October to early November – you'll hit prime leaf-peeping time as well as some of the best views close to Louisville! If you decide to stay a little longer and need a place to stay – try staying at the historic Boone Tavern! It's so beautiful and perfectly embodies the spirit of this artsy mountain town.
---
Bardstown, Kentucky
Bardstown is Kentucky's second oldest city, established in 1780, and has over 300 historically preserved buildings! Voted one of the most beautiful small towns in America by three different publications, we saved this one for last, and most certainly not the least!
When choosing a road trip from Louisville, this is the one we highly recommend in the winter because it's decorated so beautifully for winter festivities! Not to mention that it's the start of the Kentucky Bourbon Trail and has 7 different distilleries. This includes the incredible new age brewery the Bardstown Bourbon Company!
There really is nothing better than bourbon to warm you up in the frosty December weather!
Our Favorite Bardstown Distilleries
Bardstown Bourbon Company – Basically the most 'boujee' gorgeously industrial distillery we've ever seen. It's hard even to explain but watch our Instagram reel here to get a sense of how fun your day can be!
Address: 1500 Parkway Dr., Bardstown, KY 40004
Preservation Distillery – The only craft bourbon distillery of its kind in town. They do small batches, and this quaint setting is great to go off the beaten trail from where people normally go in Bardstown.
Address: 426 Sutherland Rd., Bardstown, KY 40004
Jim Beam – One of the oldest distilleries in the area, the Jim Beam family has worked in the distillery for 7 generations since 1795!
Address: 568 Happy Hollow Rd., Clermont, KY 40110
If you time your day right you can do more than one distillery in a day!
The Best Day Trips From Louisville, Kentucky
Whether you're going leaf-peeping or soaking in historical sights, there is a trip for every month of the year in Kentucky that makes a day trip worthwhile. If you have any questions about what to do in the area – feel free to reach out! We love sending our restaurant recommendations, and we have friends from all over the state who love to eat too!
Make sure to subscribe to our blog, snag all of your road trip basics (below), get your travel insurance, and have fun jamming to a new playlist!
Until next time friends,
SHOP