100+ Fun Things To Do In Louisville: Festivals, Distilleries & More
In all of our travels, there seem to be only one or two things that hold true. First and foremost, there is no place like home. There's always something that soothes our Bluegrass-born-n'-bred souls when we cross back over state lines.
We venture forth into the air that smells like limestone, fresh grass, and the peaty smell of distilling bourbon. Think it sounds lovely? That's because it is. We're here to help you fall in love with one of our favorite cities in the state: Louisville. So let's dive into 100 fun things to do in Louisville, Kentucky.
A Little Inspiration Before You Leave louisville
Kentucky Instagram Captions: Don't forget to share your Louisville adventures and tag us @mycolorfulwanderings on Instagram if we suggested something you really enjoyed. We love hearing from our readers on all the things they got to do while in our home city.
12 Perfect Day Trips From Louisville (1 For Each Month of The Year!) – Looking to explore more of Kentucky after Louisiville? Get our guide to all of the great weekend getaways within a few hours of Louisville. Think the BBQ Mecca of Kentucky, the true horse capitol of the US and a UNESCO World Heritage site?!
KNOW BEFORE YOU GO

Things Louisville Is Famous For: The Derby, Oaks, Mint Juleps, Fleur de Lis

Local Legends: Hunter Thompson, Tom Cruise, Jennifer Lawrence, Bryson Tiller and Jack Harlowe

Best Restaurants: There are quite literally too many to name! Some of our favorites are Mussel & Burger Bar, Doc Crows, and Taco Luchador – but we'll show you so many more! P.S. Louisville actually invented the 'hot brown'. Thank us later.

Best Hotels In Louisville: The Brown Hotel, The Omni Louisville, The Seelbach

Public Transportation: Buses are available but most people drive, Scooters around downtown
Interestingly enough, there are some really interesting parts of Louisville that completely don't fit in with the rest of the state. People typically think of Kentucky as the bluegrass state. Rolling fields of horses and bourbon flowing from fountains in the town square? (We wish!) Louisville is the oddball – home to an eclectic mix of artists, musicians, culinary delights and so much more. We even have a slogan 'Keep Louisville Weird!'
Exploring Louisville's Different Neighborhoods
Sort of like a mini New York City, Louisville truly has 6-7 different neighborhoods all with strikingly different feels. Here's a little history and the vibe behind each neighborhood, including what makes us love them the most! Butchertown, Old Louisville, Downtown, and Nulu make up what we mostly refer to as the 'flashy' parts of town everyone wants to visit.
BUTCHERTOWN: Shelb's personal favorite, is the lovely close-to-the-river neighborhood of Butchertown. Home to stunning architecture and an Upper Eastside vibe – there are a ton of great restaurants within walking distance.
OLD LOUISVILLE: Walking through Old Louisville is a throwback from when Louisville was founded on steel mills and goat races. (Hence Nanny Goat Strut Alley downtown!) During Louisville's founding, many wealthy patrons of the city chose to buy gorgeously built towering brick homes on the Western side of the city. Many of them surround the equally gorgeous Central Park. Did you know the same person that designed Louisville's park system also designed New York City's parks?
DOWNTOWN LOUISVILLE: Where you'll find Museum Row and some of the most gorgeous hotels in the city! Many people flock to this area around the YUM Center for big concerts. It's also where you'll find 4th Street Live which is a fun strip of bars and live music. (A very mini version of Nashville's downtown.)
NULU: The love child of foodies everywhere and colorful artists. This neighborhood has some of the cities most gorgeous murals and best food all within walkable distances. Remember to make a stop at Muth's Candies. They've been in business since 1921, and just celebrated their 100 year anniversary! P.S. We really love their perfectly gooey caramel and chocolate turtles. If you don't get at least half a pound you'll regret it!
Other Fun Neighborhoods
ST.MATTHEWS: What we affectionately refer to as the 'good-time-Charlie' of neighborhoods in Louisville. If you're looking for those causal hangouts, pizza and beer, live music kind of situations? St.Matthews is where you go.
HIGHLANDS: The most perfect combination of hipster coffee houses, walkable parks, bars, and more. Before we got married we used to walk this area and have the most perfect date days getting coffee, stopping at bookstores and little shops.
GERMANTOWN: After you've explored Butchertown, you'll find a familiar feeling in Germantown which is directly west of the Highlands. German-inspired breweries and restaurants pepper the neighborhood, amidst rows and rows of the trendiest shotgun-style houses you've ever seen!
RESIDENTIAL NEIGHBORHOODS: After exploring some of the more flashy parts of the city, there are more residential parts of the city that deserve so much love! Middletown, Jeffersontown (aka J-town), and the South End all have their good parts!
27 Things To Do in Louisville This Winter
It's that time of year when everything outdoors is starting to feel like a giant 'NOPE'. We're big fans of snuggling up by the fire. Planning for next year's hikes (because planning is half the fun!), and sipping hot cocoa all winter.
The thing is – we all get a little stir crazy being locked up in the house! When we feel the need to go out or have a little date night, we try to mix it up. Here are all the fun things to do in Louisville during the winter.
First things first on our list of what to do in Louisville this winter: distillery tours. (FYI – There are very few times a Kentuckian we won't mention doing a distillery tour. We're just that proud of our bourbon heritage!)
Distilleries To Visit In The Winter
The best distilleries to visit in Louisville during the winter don't have extensive outdoor walking tours. There are a few tours that take you outdoors for or rooftop bars in Louisville. Those won't be as fun during the winter season!
Michter's Fort Nelson Distillery – Whiskey recipes dating back to 1753, with a really gorgeous bar at the end of the tour to grab drinks. Not to mention the extensively restored vintage building from the 1800s downtown.
Address: 801 West Main Street, Louisville, Kentucky
Angel's Envy – Hand crafted small batch bourbons with a fun surprise: The tour backs up to where historic goat races took places in Louisville in the 1800's!
Address: 500 E Main St, Louisville, Kentucky
Old Forester – One of the prettiest downtown Louisville distilleries! With a multiple story copper still in the lobby, you'll really get a feel for the pride Kentuckians place in their boubon. After you've walked past the still, you'll also experience the only tour where you can also see the barrel making operation all at the same time.
Address: 119 W Main St, Louisville, Kentucky
Evan Williams Bourbon Experience – Famous for the human sized bourbon snifter fountain where people take Instagram selfies! After your seflies, enjoy some delicious bourbon too!
Address: 528 W Main St, Louisville, Kentucky
Inside Things To Do In Louisville
If you're only in town for a weekend – there are so many fun things to do in Louisville. We've talked a lot about distilleries, but besides distilleries, there are many family-friendly activities too!
One of our all-time favorite things to do in any city is to grab a coffee. You'll feel the heart and the soul of a city while sipping a delicious brew! The best coffee shops are locally owned and even roast their own beans in the house. A few of our favorite Louisville coffee shops are Fantes, Please & Thank You, and Sunergos.
Fante's Coffeehouse and Private Label Coffee Roasters (Highlands) 2501 Grinstead Dr, Louisville, KY 40206
Please & Thank You Address (Multiple Locations!) Highlands: 2341 Frankfort Ave, Louisville, KY 40206 Downtown: 800 E Market St, Louisville, KY 40206 Eastside: 9561 US-42, Prospect, KY 40059
Sunergos Coffee (Multiple Locations) West Louisville: 2122 S Preston St, Louisville, KY 40217 South Louisville: 306 W Woodlawn Ave, Louisville, KY 40214 Downtown: 231 S 5th St, Louisville, KY 40202 Highlands: 1647 Norris Pl, Louisville, KY 40205
P.S. Looking for a good bookshop once you've grabbed your coffee? Head to our local bookshop Carmichael's Bookstore or Half-Priced Books! Carmichael's Highlands Address: 1295 Bardstown Rd, Louisville, KY 40204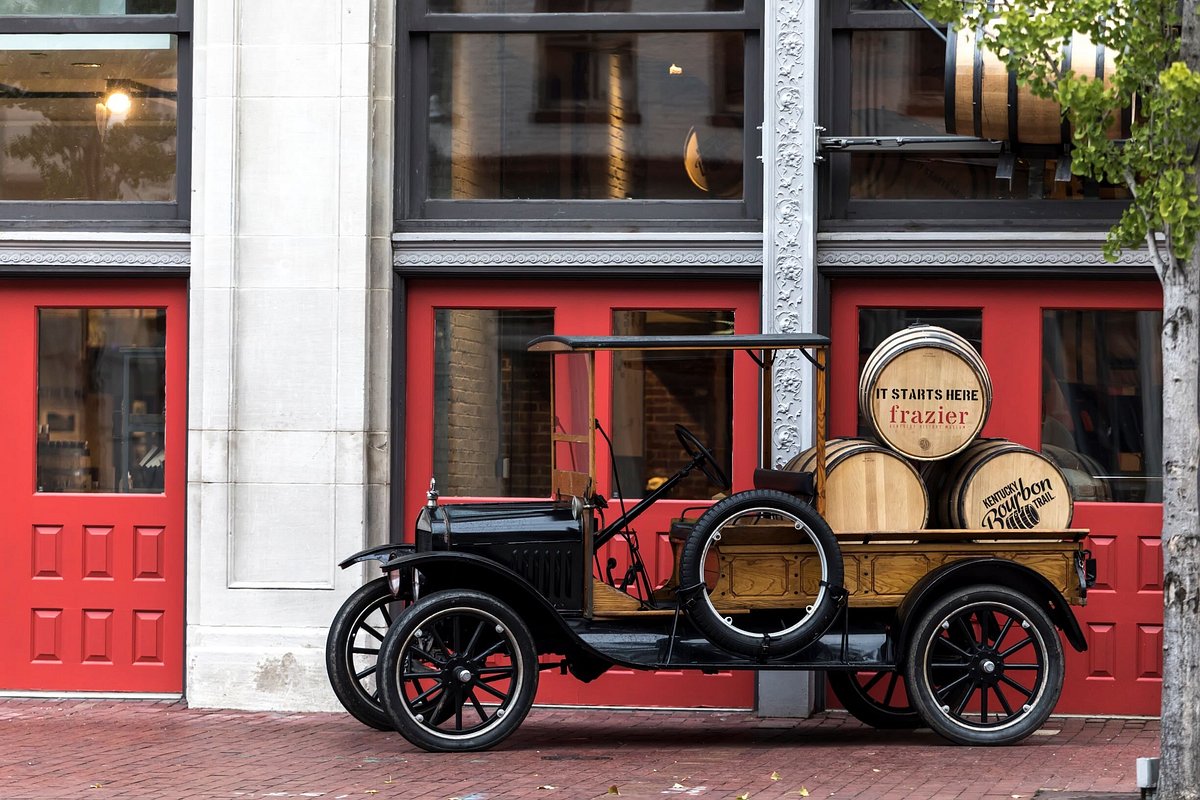 Museums & art galleries
If you've got a lazy Saturday and some time to kill, head to one of Louisville's myriad of museums. Some of our favorite museums are The Kentucky Science Center and the Frazier History Museum. A new museum in town, great for photographers, is the Angle's Selfie Museum. Built specifically for taking photos, there are revolving exhibits great for spending an afternoon honing your skills!
Kentucky Science Center: 727 W Main St, Louisville, KY 40202
Frazier History Musueum: 829 W Main St, Louisville, KY 40202
Angle's Selfie Museum (Book Ahead): 111 W Washington St Suite 201, Louisville, KY 40202
After you've explored our museums along Museum Row downtown, take in a little of the here and now! There are countless art galleries scattered throughout our eclectic city. KORE Gallery and PYRO Gallery are similar in that they both cater to up-and-coming notable artists. Interestingly, you can commission a custom piece if you like an artist's technique from KORE Gallery!
KORE Gallery: 942 East Kentucky Street, Louisville, KY 40204 | PYRO Gallery: 1006 East Washington Street, Louisville Kentucky 40206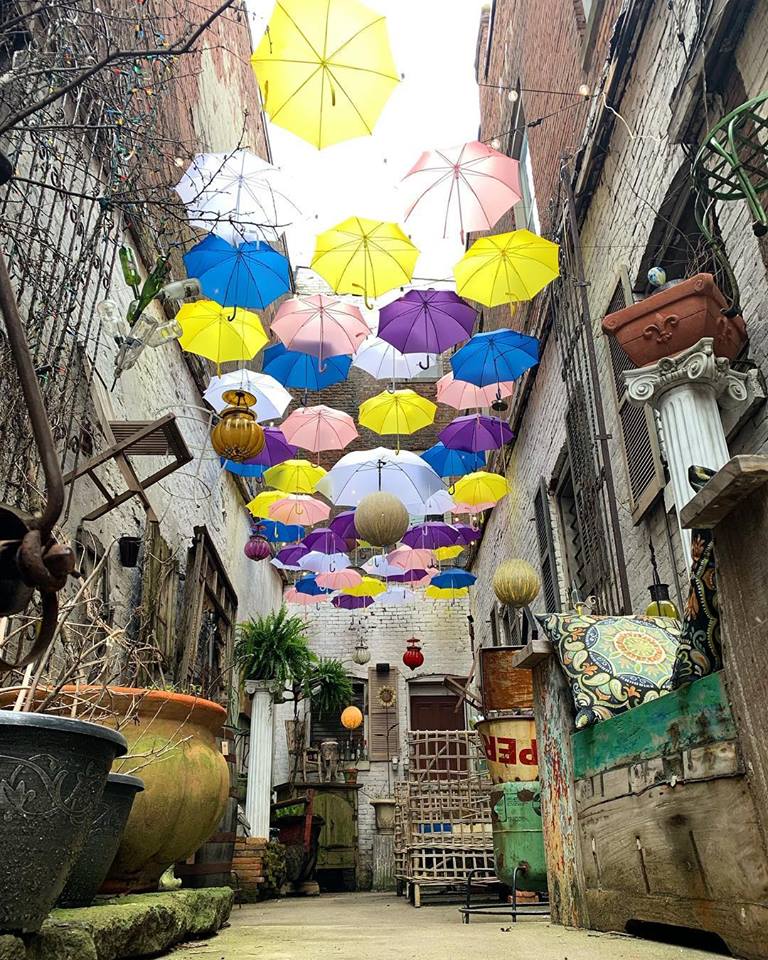 Other Fun Shops ARound The 'Ville
Additionally, we like to make sure we're supporting all types of Louisville creatives. After you've perused Louiville's art galleries, take in some of Kentucky's finest handcrafted wares. These are a few of our favorite shops with an enjoyable mix of small-batch soaps, fine jewelry, statues, pottery and so much more!
Revelry Boutique and Gallery specializes in local artists and local craftsmen.
Work The Metal is where you can find local jewelers' lovingly crafted pieces, and gorgeous gifts for all of your female gal pals!
Red Tree Furniture specializes in handcrafted furniture. (P.S. They also have Louisville's only umbrella covered patio worth stopping for an Instagram-worthy shareable photo!)
Looking for the short and sweet list of 100+ fun things to do in Louisville? Get a free printable PDF copy of our quick guide to over 100+ things to do in Louisville. Things to do in Louisville with kids, free things to do in Louisville, fun adult things to do in Louisville Kentucky – and as many categories as we can possibly think of. Enjoy!
Get on our email list to get notified when more Louisville blog posts come out!
Looking for Things Do To With Kids In Louisville This Winter? (becuase there are only so many times you can watch frozen…)
After you've grabbed a coffee, take your time to explore more of what makes our city so amazing! A great activity to do with kids in Louisville this winter is to go on a mural scavenger hunt. With over 100 murals scattered throughout the city – you could spend the afternoon never leaving the car and playing eye-spy!! On snowy days, take a detour on your scavenger hunt to drive through Cherokee Park in the snow. It's absolutely stunning to see this winter wonderland while you're bundled up in your car.
For an interesting stop – try the new 'Activate' gaming experience. When you book a spot, your group can play all sorts of games in an LED experience activated by wristbands. If you like the idea of a futuristic Hunger Games type challenge – this is for you.
Last but not least – enjoy the frenzy and fighting spirit of the Louisville Cardinal's basketball games! Team colors are red and black. Be prepared to be booed if you wear blue. Cards fans don't take kindly to their rival UK color!!
Active Things To Do In Louisville This Winter
From indoor rock climbing to the oh-so-popular ax-throwing trend, Louisville has it all when you're looking to burn off a little energy. Before you take on rock climbing in Kentucky's famous Red River Gorge – try Climb Nulu. Climb Nulu offers an epic indoor rock-climbing experience, great for all skill levels. You can even buy membership packages to hone your skills all winter long!
CLIMB NULU: 1000 E Market St, Louisville, KY 40206
Close to NULU, you can also find the indoor game bar downtown on Fourth Street: The Sports & Social Club. You can bowl, play corn-hole and enjoy beer & wings close to the best downtown Louisville hotels.
For a few more inside activities, try your hand at throwing axes at Flying Axes, go thrifting and antiquing at the peddlers' malls (trust Shelbs when she says that's a workout!), or head to the gun range. The best second-hand furniture shops around town are there Fleur de Flea Vintage Market, Mellwood Antiques & Interiors, and our personal favorite the Nearly New Thrift Shop. For a good gun range, try Shoot Point Blank in Middletown.
Get Active This Winter & Grab a Hot cocoa Before you Go!
Now, if you just love the cold and you're looking for a few fun things to do in Louisville outside, we have some ways to get that perfect rosy-cheeked glow. First and foremost, sledding. Louisville has a few well-known sledding spots. When the snow really hits heavy, our favorite is the hilly Cherokee Park. If you're looking for a little something more challenging than sledding, try hiking Fairmount Falls. It's gorgeous when frozen!
The last outdoor thing we'd suggest this winter is grabbing a cup of hot cocoa and walking the pretty snowy streets in the evening around Louisville. With so many historic districts and lights twinkling along cobblestone streets, Louisville is perfect for a romantic snowy evening stroll. Our favorite is Old Louisville in the winter!!!
Live Music & Bars In Louisville This Winter
Beyond distilleries, Louisville also has a ton of incredible breweries for you and your pals to enjoy! The ones we love the most for winter are Akasha, Ten20 Craft Brewery (Butchertown location), and Mile Wide Beer Co. The best part about these breweries in the winter is that you can bring your furry friends (at Akasha) or have plenty of space for hanging out (Milewide and Ten20). Both Milewide and Ten20 have an enormous amount of indoor and outdoor space perfect for large groups.
Not ready to end the night with breweries? Head to a few of our favorite bars in the city for a few more fun things to do in Louisville during the winter. Faces Bar, Meta (home to incredible Moscow mules), and The Silver Dollar. We can't say enough good things about Meta – they flavor and infuse their own ginger syrup!!
Cover Bands, Concerts & Theater Productions
Now, if you're the type that needs a little live music with your bourbon – try Tin Roof or Gerstle's (the college+ crowd), and Jimmy Can't Dance (the Boomers+ Crowd). Louisville also has two of our very own local bands whose Facebook pages you can follow here for what bars they'll be at around town: The Louisville Crashers and the Juice Box Heroes.
For bigger artists, take in a show at The Louisville Palace, Paristown Hall, or Headliners. Recently Shelbs and a friend just went to Old Forester's new Paristown Hall venue? It was awesome to see Caamp for an incredible small venue show!
ACTORS THEATER: In a city where it's possible to be a working actor, we love supporting this fantastic group! Get tickets to see a show for a fun date night in Louisville. They even have seasonal shows that would be great for kids!
If you're not done with your night – grab dinner and drinks in an igloo! Or head to one of Louisville's best-heated patios for some R&R after a long day of work.
The Louisville Hotbrown
When you think of food in Louisville, you probably think bourbon and Southern cooking… and you're not wrong. But any true Louisvillian knows that one of the most comforting dishes available during wintertime is the Kentucky Hot Brown.
Started right here in the city in the 1920s at The Brown Hotel, this dish has evolved to tacos, pizzas and so much more. So how did it come about? There's the story on The Brown Hotels website… and then there's the story Shelb's papaw told. We have to tell you the story that papaw told. It's probably more true anyways dontcha' think?
Back in the '20s, there was an epically bad snowstorm one year. The Brown Hotel had over 1,200 guests for their dinner dances, and they ended up not being able to get any supplies in! What they had left was turkey, bread, bacon, tomatoes, and the ingredients to make Mornay sauce. Throw everything together and what you have is a perfect combination of savory cheesy Mornay sauce, and crunchy bacon ladled on an overall baked pile of goodness.

PAPAW RIPPY – SHELB'S GRAMPA
Don't question, just order. Get the official Kentucky Hot Brown recipe here!
30 Things To Do in Louisville This Spring
Spring in Louisville is one of the prettiest times In the city for a few reasons. No #1 is because our city is close to a huge river that spurs on the awakening of a lush floral landscape. No #2 is because Oaks and Derby celebrations are when Louisville is at its cleanest. Every year thousands of roses bloom around the city, streets are clean and patio season commences with a gusto.
So what to do in Louisville this spring? Walk through massive flowering gardens, enjoy a few brewery patios, and experience all things Derby.
If you're in town with kiddos, the Louisville Zoo and Waterfront Park Waterpark & Playgrounds are always fun. For a unique Kentucky outing with your kids this spring, try horseback riding lessons! The Louisville Equestrian Center and Twin Oaks Farms are both highly rated on horseback riding lessons for novice to intermediate riders.
For The Garden Lovers
Interestingly enough, Louisville is a city that prides itself on its flora & fauna. Louisvillians love their flowers. While you're visiting the city – make sure you take in some of the most well-loved gardens around town, while the hummingbirds, bumblebees, cardinals and blue jays flit from flower to flower. (We mention the bumblebees because Louisville is a city committed to honeybee conservation!! So important in times of a changing climate.)
Every year in the spring at the Yew Dell Gardens, there is a mega-bloom of over 10,000 tulips!!! So not only do you get to walk the gorgeous grounds during this display, but you'll also be walking the grounds of a castle. Need more blooms? Head to the brand new Waterfront Botanical Gardens.
Grabbing Drinks Later: What's a Girls Day without Adult Beverages?
For one of our favorite places in Louisville, head to the gorgeous flower-covered patio at Gralehause. House-made ciders and local beers are on tap while you sit in the shade and enjoy a little respite from the noise of the city. The Holy Grale is also attached to Gralehaus. There will be a little stand on the patio with available beers! Gralehaus Address: 1001 Baxter Avenue, Louisville, Kentucky.
Looking for a few more breweries? A few that we love in the spring are Atrium Brewing, West Sixth Brewery, and Gravely Brewing. (Gravely Brewing has an incredible double-decker patio where you can see the city skyline! It's a must-add on your list of things to do in Louisville KY!)
Derby Related Things
Remember when we said that Louisvillian's love their animals? Derby is what we were referring to. Louisville has an entire month of celebrating, (April), not one but two signature cocktails and an entire museum dedicated to horse racing. There are 7 things to check off your list to get the full Derby experience!
Starting in early April, the Kentucky Derby Festival kicks off with the Pegasus Parade. The next weekend is one of the largest fireworks displays in the country: Thunder Over Louisville. Over 700,000 people rent out all the hotels, and crowd the waterfront for this epic show! Then come the active events like the Kentucky Derby Festival miniMarathon/Marathon. We ran the mini one year and came in 7846th place.. but it was really fun!!
The main Events: Oaks & Derby
After celebrating for literally a month, we finally get to the Kentucky Derby races. What most people don't realize is that there are actually two famous races back to back. On the first weekend in May, Friday is Oaks and Saturday is Derby. Most of the time you'll find the locals at Oaks (the day the fillies run and always the Friday before Derby). And you'll find us sipping the signature Oaks cocktail: a Pink Lilly.
You're reading 100 Fun Things To Do In Louisville KY. Want more of of the South? Check out our guide to the stunning Bell Mountain in Georgia!
Saturday is the big day that runs across the news every year. Derby Saturday can be likened to The Royal Ascot in terms of famous people, exclusivity, etc. They call it 'the fastest two minutes in history' and for good reason! Horses from all over the world compete for the glory of wearing the traditional blanket of red roses. The signature cocktail of the Kentucky Derby is The Mint Julep. A tasty mint and bourbon cocktail that really only a true bourbon aficionado would love!
If you want a little more in-depth history before the big day – head to the Kentucky Derby Museum and do a Mint Julep Tour to complete your weekend.
A FEW OTHER MUSEUMS: The Speed Museum in known for having incredible exhibits including pieces by Picasso, Frida Khalo and numerous other well reknown artists. The Conrad Caldwell House would be gorgeous to visit in the spring with all of their blooming flower gardens. Walk downtown Louisville to see 21C Museum and try Mussel & Burger Bar around the corner!
A Little Fresh Air
When the spring winds bring gusts of warmth off the Ohio River, Louisvillians everywhere will take to their bikes, boats and walk as much as possible. There are so many things to do in Louisville to get outside and enjoy the fresh air! If you're in town for the Derby, one thing you can do to truly complete your trip is riding The Belle of Louisville.
The Belle of Louisville is a well-beloved historic steamboat and National Historic Landmark. Cruising since 1914, picnics and city tours depart from downtown. Cruise tickets are available here.
Other than historic sites, there are also quite a few trendy places to walk, shop, and sip. We were asked recently what to do if you're in town with the gals for a day, so we created a guide for walking the trendy downtown NULU district! Our guide includes visiting Louisville's prettiest flower shop, a beer garden, and a few gorgeous local boutiques.
Furry Friends
Are you obsessed with your pets? There are quite a few places to hang out with your furry friends and sip an adult beverage. New to Louisville within the past few years are two bars that celebrate dogs! PG&J's Dog Park Bar and Club K9 Dog Bar both have ample space to run while you sip (they don't offer food!).
OTHER LOUISVILLE FESTIVALS IN THE SPRING: In any season, things to do in Louisville always include a plethora of festivals. In the spring The Tailspin Ale Fest, NuLu Bock Beer Fest, and the Cherokee Triangle Art Fair are a few of our favorites!!
Wanna' learn a well hidden Louisville secret? Louisville is home to the ultra-exclusive Valhalla Golf Course that has preiously hosted PGA Golf Tournaments. You can't go play for a day unless invited by a member, but as Ev loves to golf, it's on our Louisville bucket list to play a round one day!
Restaurant Recommendations: The Pine Room, Louvino Middletown, Proof on Main, Double Dogs
26 Things To Do In Louisville This Summer
What do you think of when you think of summer? Here in Kentucky, we think of sweet summer winds, hiking, music festivals, and tacos!!
Summer is truly festival season and there's plenty to add to your 'fun things to do in Louisville' list. Starting with the smaller live events, Waterfront Wednesdays are mini music festivals sponsored by the Louisville Waterfront Park organization. There are also weekly live shows in Norton Commons called the 'Water Summer Concert' series.
On the heritage side, Louisville is also home to cultural festivals! Shakespeare in the Park weekly performances, the I Am Ali Festival honoring Muhammed Ali (he's from Louisville!!) and the Jane Austen Festival. P.S… There's also this weird Zombie Walk every year? We told you the Louisville slogan was 'keep Louisville weird' right? People get pretty into it!!
Music Festivals
For larger concerts with big-name artists, people come from all over the state and beyond to enjoy these events:
Get our guide to all things Music Festivals here, including an essential packing list and what to wear. Never being uncomfortable, sunburnt, or sticky at a concert again!
By The Ohio
Beyond waterfront concerts, there are quite a few fun things to do in Louisville KY by the Ohio River. When walking the 10-mile Waterfront Park trail, visitors can watch rowers on the Ohio River, take in one of Louisville's famous sunsets, and walk the Big Four Bridge.
The Big Four Bridge connects downtown Louisville with Jeffersonville, Indiana. On the other side of the river, there are restaurants and an adorable town center worth walking with historic buildings and lively restaurants!
P.S. Louisville really does have some of the most amazing sunsets we've seen. Something to do with where the city sits in a valley, the amount of dust refracting light in the air (also the cause of everyone's terrible allergies), and the way the Ohio River reflects light? We really don't know the cause – but if you get on Instagram, Louisvillian's will share them all year long!
Looking to Escape the Heat?
There are multiple ways to beat the humidity heavy summer heat. (It really is like breathing through a wet cloth some days in the South!) Moreover, there are also places for your furry friend to cool off. Which in our opinion is the most important. Our 100-pound German Shepherd pants all summer in the heat!
Go kayaking and swimming along Harrods Creek.
Take your furry friend for a swim at Floyds Park. (There are a ton of shallow rocky beaches along the outskirts of the park where our dog loves to catch a stick and swim!)
Explore Louisville Mega Caverns that stay around 60 degrees all year long!
Riverfront Restaurant Recommendations: Riverhouse (Great for date nights and adult groups), Captains Quarters (Great for families and large groups!)
Summer Date Nights & Family Fun
With everything outside-accessible and kids at home, you're probably going to start looking for things to keep them entertained. Beyond all of the free/low-cost activities we mentioned above in the 'By The Ohio' section, these are a few more of our favorite budget-friendly things to do in Louisville. Think drive-in movies, sporting events, and go-carts!
Easy Last-Minute Plans!
Looking for last-minute options? Here are a few more budget-friendly things to add to your summer bucket list!
Best Louisville Breweries in The Summer: Against The Grain Brewery (Right next to the Bats' stadium) | 401 E Main St, Louisville, KY 40202, Falls City Beer for trivia nights | 901 E Liberty St, Louisville, KY 40204, Apocolypse Brewworks | 1612 Mellwood Ave, Louisville, KY 40206
Restaurant Recommendations: Looking for a place to grab some tacos and margaritas? Get our guide to the best tacos throughout Louisville, including where to find kangaroo tacos!
Kentucky State Fair
Last but not least as the summer comes to a close: the Kentucky State Fair. More than just a place to eat gooey fried Oreos and heart-attack rendering 'donut burgers', the Kentucky State Fair is a true people-watcher's paradise.
Trickling in from all over the state, people come from every walk of life to see giant pumpkins, pet the fuzziest of bunnies, Kentucky's finest quilt makers, and a little live music. Always right around the 2-3rd weeks of August, find all info on the Kentucky State Fair's official website.
Some of the main events include:
The World Championship Horse Show – one of the most prestigious horse shows in the World!!!
The Miniature Horse Show
The Texas Roadhouse Concert Series
The Kentucky State Fair Talent Classic
While you're in town riding rides and trying to win goldfish, you can also head over to Kentucky Kingdom and Hurricane Bay. Louisville's very own theme park and waterpark are the perfect way to end summer before heading back to school!
25 Things To Do in Louisville This Fall
Did you know that Louisville has a school for the blind? While we know most of our readers aren't necessarily visually impaired, having this school has made our city so much more walking-friendly. In turn, fall-friendly activities abound!
Louisville comes alive with the bright hues of fall as crisp winds of the Ohio River rustle through our many green spaces throughout the city. These are a few of our favorite places to take a walk in town. Take a walk and see the colors change on the foliage in some of our incredible parks.
Walk Historic Louisville
Family-Friendly Fall Activities In Louisville
Looking for a few family-friendly things to do this fall in Louisville? Consider UofL football games, indoor gaming, and exploring where the famous Louisville Slugger bats are made!
Since fall in Kentucky can be pretty rainy (don't hate it – it's what gives us our vibrant fall hues!), you'll also need a few good ways to get out of the house. A few great rainy day activities are the Louisville Slugger Museum, Malibu Jacks, and DEFY Louisville.
Louisville Slugger Museum: Louisville Slugger bats are world famous and this tour is a must do if you've never been to Louisville. The best part is that everyone receives a souvenir mini-bat!
Malibu Jacks: Laser tag, go carts, bowling and so much more. Plus they have ski-ball and we 100% can't not play this game everytime we see it so Malibu Jacks was a win for us!
DEFY Louisville: Almost every major city has an indoor obstacle course/ trampoline park now. After having been to one ourselves, we have to say that it's absolutely a must if you have rowdy kids. We're semi-fit pasta loving adults who were winded after like 30 minutes of strait jumping around!
Need Outdoor activities this fall?
Looking for a few family-friendly outdoor activities this fall? Try biking along the 100-mile Louisville Loop Trail, pumpkin picking, or grabbing tickets to a University of Louisville football game.
We love decorating the house for fall and supporting local farms, so we always end up buying like 15 pumpkins? As a result, we're picky when it comes to picking out our gourds. Our favorite pumpkin patches are Sunny Acres Farm and the Pendleton Farms Pumpkin Patch!
Perfect Fall Date Ideas In Louisville
Looking for what to do on date night? As you've probably guessed after reading this post, we highly recommend snagging a little live music, dinner, and drinks. But where to go in the fall? There are a few places we highly recommend when the weather takes a turn for the chilly.
Drive through the stunning historic neighborhood of Anchorage and grab dinner at The Village Anchor, and the new location for Ten20 Brewery.
Address: 11507 Park Rd, Louisville, KY 40223
Vines Wine Bar: Where you can bring your furry friend!
Address: 1985 Douglass Blvd, Louisville, KY 40205
BREWERIES: Need to get away from the cold? Head to some of the cutest breweries in town to sip a cold beverage and enjoy the crisp fall air. Starting with 3rd Turn Brewing – they have the prettiest patio with stained glass windows as a throwback to the building's beginnings as a church. If you've taken a walk in Old Louisville – head to the Old Louisville Micro Brewery. This brewery isn't flashy – it's the place you take your old-timer family when they come in town to feel comfortable!! Last but not least: Monnick Beer Company. With a decidedly German flair reflecting the Schnitzelburg neighborhood, it's also one of our favorite places in town to get beer cheese!
Fall Festivals in Louisville
Fall is one of our favorite seasons in Kentucky, but one of the biggest reasons is the number of festivals in Louisville. Food, art, and music are all on full display in the perfectly crisp autumn air? Perks: You'll never feel gross and sweaty while enjoying copious amounts of all the things our doctors tell us we shouldn't eat and drink.
Kentucky Bourbon Festival: Typically in September, this classy festival takes place in one of America's prettiest small towns: Bardstown! (It's only 45 minutes away.) Almost every distillery in the state participates and you have the opportunity to win some pretty incredible vintage bottles.
Louisville Brewfest: Right at the end of summer and leading into fall is this awesome festival in Old Louisville. Live music, cornhole and so much more are all part of the fun while winding down from an awesome summer in the Ville.
Jack O'Latern Spectacular: Held in Iriquois Park for the last ten years, there are over 5,000 carved pumpkins lit up along a gently sloping walking path. Lines can be long so get there early!!
Louder Than Life: One of our favorite music festivals overall! Louder Than Life is a true Rock Fest and one of the biggest in the country. In 2021 Shelbs saw Machine Gun Kelly and Metallica – they did not dissapoint!
Local Festivals & Fairs
A few beloved local events that you won't need to plan ahead for are the J-Town (Jeffersontown) Gaslight Festival and the St. James Art Fair. The Gaslight Festival is a magical display of hot air balloons and we always have fun watching them glow against the pretty Louisville sunsets.
The St. James Art Fair is a pretty big deal if you're from Louisville. Craftsmen from all over Kentucky come and showcase their creations. Gorgeous paintings, food, blown glass, and so much more. One year Shelb's mom bought us a specialty handmade breadknife. Did we know we needed such a thing? No. But now we can't live without it and it's a gorgeous piece we're glad to have!
Further Reading
Looking to explore a little more on Kentucky? Get more of our favorite Kentucky posts by snagging our guides to Kentucky with many more here.
Are your travels taking you south? We have blog posts for just about every southern state either already written or coming up. In Alabama, we have a guide for how to do an Ultimate Alabama road trip to see all of the state, a full guide to what to do in Huntsville Alabama, and one of the coolest things we've seen – Stephen's Gap Cave!
Since everyone we know in the South loves a good road trip, we also thought we'd share all of our favorite road trips stops off of the major major Southern highway Interstate-65. There's just nothing like taking a bite of a freshly baked juicy peach pie in Georgia before hitting the road again. And if you're in the mood for a long road trip – get our guide to the 17 prettiest sunsets across the USA!
After reading all of these posts, you might wonder how we're able to accomplish so much traveling while we work full-time? The truth is that we're just really good at managing our time. If we had to do it all over again though, we'd highly recommend snagging a career or degree that allows us to travel for a living. (Which is also the business we're starting now!)
Heading To Louisville? Share This Post With Your Group!
Make sure to subscribe to our blog, snag all of your road trip basics (below), get your travel insurance, and have fun jamming to a new playlist!
Until next time friends,
SHOP