10 Great Travel Books To Read When you're Not Traveling
While we all miss traveling, the world won't be this way forever. Keeping up our adventurous spirits has never been more important than while we're literally trapped in our homes. The best way to do this? Pick up a good travel book or novel, and go far away from your four walls. Reading or listening to a book can take you thousands of miles away! These travel books and novels are getting me through quarantine and through my next layover! Click here for my thoughts on when we can travel again.
The titles in pink are mostly links to copies of the E-book and when not available – linked to the printed version. If you're a budget traveler like us – keep in mind also that while backpacking– weight, and space in your pack are valuable. You'll already be carrying a phone- so the E-version of these books on the free Amazon Kindle app is the best way to go!
By far one of my favorite novels to make me want to travel recently has been A Storyteller's Secret. The raw emotions of the characters, combined with the rich history of India, put it at the top of my recommended travel books. There's something about the desire to plan a trip to a culture so different from their own and understand the way people live. In the novel, a taxi driver wonders aloud if cattle and animals walked in the street in the main character's country. Her response, of course, is 'no', since she's from New York City. All I could think was – 'What a beautifully wild thing that must be to see?'. Definitely worth a re-read because it's hard to miss traveling getting lost in Sajal Badani's bestsellers!
A snippet from the about:
'Nothing prepares Jaya, a New York journalist, for the heartbreak of her third miscarriage and the slow unraveling of her marriage in its wake. Desperate to assuage her deep anguish, she decides to go to India to uncover answers to her family's past. Intoxicated by the sights, smells, and sounds she experiences, Jaya becomes an eager student of the culture.'
---
I haven't read this book yet but it gets great reviews and was a book recommended by the Nomadic Matt blog. I personally love getting recommendations from other travelers because they miss traveling too! When we can travel again, I look forward to seeing the cultures that didn't change. Before even starting to read, I imagine this book will transport me thousands of miles away! Here is a snippet from the 'About Blurb':
 "Inspired by the Moroccan vacations of his childhood, Tahir Shah dreamed of making a home in that astonishing country. At age thirty-six he got his chance. Investing what money he and his wife, Rachana, had, Tahir packed up his growing family and bought Dar Khalifa, a crumbling ruin of a mansion by the sea in Casablanca that once belonged to the city's caliph, or spiritual leader. "
Evan and I have talked many times about wanting to pack up and move to another country, so this is a must-read travel book for us!
---
For anyone dreaming about traveling to France, and Paris in particular; this is the book for you. To me, travel books always need to include a little bit of history. When I imagine the characters, it makes them come to life a little more if they're apart of a grand scheme or historical mystery? As a romantic at heart, these are also the books I remember the most and imagine when walking the streets of a new city. Paris is a city I plan to travel to when I'm a little older and not needing as many physically challenging adventures but
A little snippet of storyline:
'Paris, 1940. With the city occupied by the Nazis, three young seamstresses go about their normal lives as best they can. But all three are hiding secrets. War-scarred Mireille is fighting with the Resistance; Claire has been seduced by a German officer; and Vivienne's involvement is something she can't reveal to either of them.'
---
Peru is one of those places that I dream of, and specifically, Machu Picchu is where I would want to plan a trip. Machu Picchu is a UNESCO World Heritage site so it's been on my bucket list forever. Reading this book about travel through Peru, was listed as a New York Times Bestselling Travel Memoir and gets over 4/5 stars on Amazon. As a person who loves to travel in general to completely foreign cultures, Peru is one of the countries in South America that I feel hasn't been as impacted by tourism. The lack of impact from tourism means you're going to have more of an authentic experience and that's exactly the vibe of this Mark Adam's travel memoir.
A snippet about this travel book:
'In 1911, Hiram Bingham III climbed into the Andes Mountains of Peru and discovered Machu Picchu. While history has recast Bingham as a villain who stole both priceless artifacts and credit for finding the great archeological site, Mark Adams set out to retrace the explorer's perilous path in search of the truth' except he'd written about adventure far more than he'd actually lived it. In fact, he'd never even slept in a tent.'
---
I always lived by some sort of body of water from the Chesapeake Bay to the Pacific Ocean until I was about 10. The memories of the beach and the water have always made me love anything to do with the mysteries of the sea, so The Shipwreck Hunter is right in my wheelhouse. David L Mearns' memoirs about discovering some of the world's most elusive shipwrecks fill me with a sense of longing for the ocean but also through me into my memories of some of the most beautiful waters I've ever seen. Wondering what might be below the sapphire blue seas of the Mediterranean or what may have lain just off the coast of Virginia where I played as a child help me travel thousands of miles while I read.
A little about this travel book:
'David L. Mearns has discovered some of the world's most fascinating and elusive shipwrecks. From the mighty battleship HMS Hood (sunk in a pyrrhic duel with the Bismarck) to solving the mystery of HMAS Sydney, to the crumbling wooden skeletons of Vasco da Gama's sixteenth-century fleet, Mearns has searched for and found dozens of sunken vessels in every ocean of the world.'
---
This novel has come highly recommended so I had to include it on this list of travel books. Not only was it a New York Times Bestseller, but it was also on Reese Witherspoon's list for her Hello Sunshine Book Club. (I love everything about Reese Witherspoon so yes I follow her book club recommendations!) Anyways – this book is set in North Carolina on the coast. Having grown up on the coast of Virginia in a small town, there is something nostalgic about books that have the ability to take me back there. I also love mystery novels, which combined with missing traveling makes it a must-read! Solving puzzles, and making educated guesses as to how the story ends throughout gives me sort of a thrill while I'm stuck doing dishes!
A little about this travel book:
'For years, rumors of the "Marsh Girl" have haunted Barkley Cove, a quiet town on the North Carolina coast. So in late 1969, when handsome Chase Andrews is found dead, the locals immediately suspect Kya Clark, the so-called Marsh Girl. But Kya is not what they say. Sensitive and intelligent, she has survived for years alone in the marsh that she calls home, finding friends in the gulls and lessons in the sand.'
---
I love a good archaeological mystery, especially when action-packed. While many people don't know them well – the Blue Ridge Mountains are a gorgeous US mountain range. Ev and I have been on many adventures hiking the Appalachian Mountain chain, chasing waterfalls, and getting some gorgeous views! Following fictional Native American historical mysteries as well as links to Egyptian cultural references had me completely captivated. While I couldn't wait to give the next book in the series a try, I also felt a renewed sense of wanting to see the US in our travels. For the remaining books in this trilogy, see here and here! You won't be able to put it down!
A little about this travel book:
'A four-thousand-year-old mystery lurks in the hills of Georgia. While investigating a strange series of ancient symbols, an archaeologist vanishes, and a professor he entrusted with the secret is murdered. Former government agent, Sean Wyatt, learns of his friend's disappearance and the murder. Now he must unravel the clues to the ancient mystery that holds incredible power.'
---
This book has been widely discussed as one of the best travel books for a fresh perspective on life. Why are other countries so happy? Is it their lack of materialism? Their focus on spirituality? The money or lack thereof? It's interesting to look into what defines happiness in cultures so completely different from our own, where materialism abounds.
A little about this travel book:
'Are people in Switzerland happier because it is the most democratic country in the world? Do citizens of Qatar, awash in petrodollars, find joy in all that cash? Is the King of Bhutan a visionary for his initiative to calculate Gross National Happiness? Why is Asheville, North Carolina so damn happy?
In a unique mix of travel, psychology, science and humor, Eric Weiner answers those questions and many others, offering travelers of all moods some interesting new ideas for sunnier destinations and dispositions.'
---
Ahh.. Pride & Prejudice. This was the first book I really loved being forced to read in school. I definitely think Austen's novel belongs on this travel book list!
While I know it's not the early 19th century, part of European countries' charm is that they keep history alive! If you're a fan of Austen novels, England would be a perfect place when we can travel abroad again. You can even visit Wentworth Woodhouse, which was the home of a few characters from Pride & Prejudice the movie!
A little about this novel:
'In a remote Hertfordshire village, far off the good coach roads of George III's England, a country squire of no great means must marry off his five vivacious daughters. At the heart of this all-consuming enterprise are his headstrong second daughter Elizabeth Bennet and her aristocratic suitor Fitzwilliam Darcy – two lovers whose pride must be humbled and prejudices dissolved before the novel can come to its splendid conclusion.'
---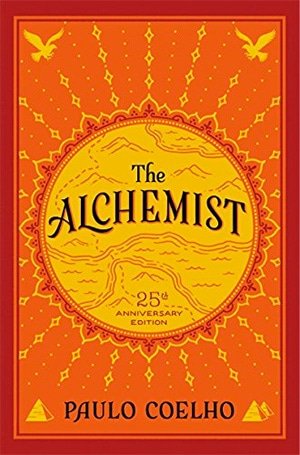 The Alchemist has a great message about the real importance of travel. Have you ever heard the quote, 'Travel is the only thing you can buy that makes you richer'? I personally 100% believe this is true, and Paulo Coelho's tales of his travels make this an excellent travel book to include if you're looking to escape for a little while. While, yes, travel can give you some amazing photos and memories, you'll see the world differently. This book is a reminder of the real reasons we travel – to become better people.
A little about this travel book:
'Paulo Coelho's masterpiece tells the mystical story of Santiago, an Andalusian shepherd boy who yearns to travel in search of a worldly treasure. His quest will lead him to riches far different and far more satisfying than he ever imagined. Santiago's journey teaches us about the essential wisdom of listening to our hearts, of recognizing opportunity and learning to read the omens strewn along life's path, and, most importantly, to follow our dreams.'
---
Most of these adventure inspiring books are available through Amazon digitally – e-books = eco-friendly! Let me know which ones have been your favorite in the comments below!
Pin This Post!
Make sure to subscribe to our blog, snag all of your road trip basics (below), get your travel insurance, and have fun jamming to a new playlist!
Until next time friends,